Animals
April 11, 2016 | No Comments » | Topics: Animals, Cute |
April 4, 2016 | No Comments » | Topics: Animals, Uplifting |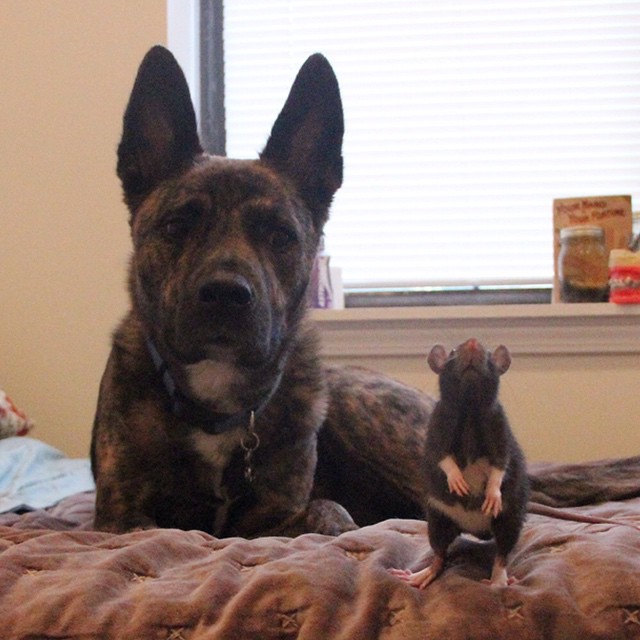 Osiris is a 3-year-old Dutch shepherd therapy dog that befriended a 3-month old rescued pet rat named Riff Rat. The pet rat and therapy dog don't just tolerate one another they are real life best friends forever.
Riff Rat had a rough start, and was rescued at only 4 weeks of age in pretty bad shape. He was nursed back to health with a syringe and plenty of love from kind-hearted humans as well as Osiris the gentle giant therapy dog. Dutch shepherds are well known for their ease of training and obedience, but Osiris takes being a great dog to a whole different level. Osiris allows Riff Rat to crawl inside of his mouth and clean his teeth, and no one even worries that the dog will make a snack out of the little rat.
Osiris' owner writes on @osirisandriff Instagram, "Riff Ratt really likes licking the inside of Osiris' mouth. I'm sure you all are wondering if we're afraid Osiris will eat Riff – NOPE! Osiris has helped foster and care for dozens of animals and he is the gentlest dog I've ever met."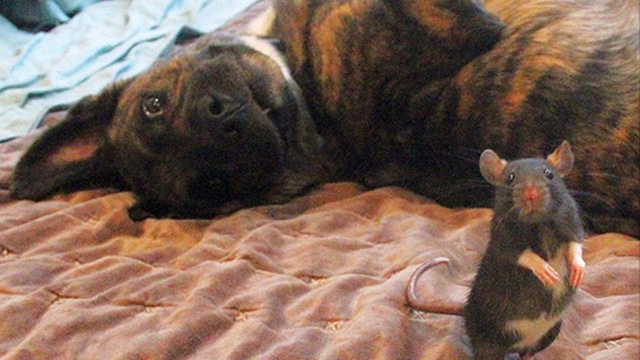 March 29, 2016 | No Comments » | Topics: Animals, Heartwarming |
This is a photo series I shot back in August in Assateague, Maryland. My boyfriend Christian, and I took our three pups on an overnight stay at the beach. We dedicated the trip to our 11 year old American Staffordshire Terrier, Dyuki (Mr. Dukes). He was in his final stages of Grade III mast cell cancer at the time. His most favorite activity was swimming in our family pool, but until then, he had never seen the ocean. It was a very special trip for us, and I'm so grateful we were able to make it happen. He passed away a month later, but he put up one hell of a fight—almost two years. 
The drive to Assateague is about 3 hours, and we were being blasted with sunlight pretty much the entire time. But the moment we pulled up to the ocean, the clouds quickly rolled in, and it started to drizzle. Who cares though? We love the rain!
March 29, 2016 | No Comments » | Topics: Animals, Heartwarming |
#1. Peaches loves to cuddle with sick patients at this rehabilitation center
#2. This "Super Mutt," Joca travels all the way to Brazil to help children in need
March 22, 2016 | No Comments » | Topics: Animals |
March 22, 2016 | No Comments » | Topics: Animals, Heartwarming |
Meet Honey Bee, a blind cat from Fiji with a beautiful spirit and a wonderful message of hope. Once upon a time Honey Bee lived at an animal shelter called Animals Fiji, but today she happily lives with her 2 loving humans and 4 other cats all the way in Seattle. After first adopting a blind cat, her owners likely didn't know what to expect, but turns out Honey Bee is just like any other cat with eyes. Actually, Honey Bee is arguably WAY more incredible.
First and foremost, unlike most scaredy cats this brave cat LOVES to go hiking. On BoredPanda.com her owners write, "When we go hiking, we take her on our shoulders or with a leash. People say they love dogs because you can take them hiking, but Honey Bee loves hiking, too!"
March 16, 2016 | No Comments » | Topics: Animals |
Now pet owners have a new way to remember their beloved animals beyond the grave – immortalizing them as plush toys. Cuddle Clones, a company based out of Louisville Kentucky, creates cuddly versions of creatures based off photographs. From lopsided ears to battle scars and missing limbs, no details are spared. To date the firm has had requests for all kinds of critters including dogs, cats, horses, pigs and even birds.
March 15, 2016 | No Comments » | Topics: Animals, Cute |
1. "As a newly single mom, I thought we could use a third member of the family. The first ride home, I knew she was the perfect addition." – Justanexcitablegirl

2. "Bringing our Jipsee kitty home." – sklles
(more…)
March 15, 2016 | No Comments » | Topics: Animals, Cute |
March 15, 2016 | No Comments » | Topics: Animals |