Cute
April 27, 2016 | No Comments » | Topics: Cute |
Beryl is far from your ordinary cow. For one, she thinks she's a dog — after all, she grew up side by side with two puppies.
April 25, 2016 | No Comments » | Topics: Cute |
Meet Bubba. He is a sweet Pitbull, that had been waiting to take care of a kitten. Rebecca Pizzello rescued Bubba from a shelter in Phoenix, Arizona, six years ago, when he was just 3 months old. At the same time, her roommate rescued kittens. "Since then, Bubba has had an endless affection for cats," Pizzello told The Dodo.
"Like, literally obsessed. I always knew he'd love having one of his own, but I wanted to wait until we moved to New York City [from Los Angeles] this year." After weeks, she got a call from a shelter, and adopted a kitten. "Rue stood out like no other and I took her home as fast as I could," Pizzello said. "The fact that Bubba and Rue have identical coloring still blows my mind … I knew Bubba would be filled with joy the second we walked in the door and boy was I right."
Bubba was immediately gentle with the baby. "Rue thinks Bubba is her mom and Bubba loves it," she said. "He bathes her like a baby and snuggles close to her to make her comfortable."
They've even got their own Instagram account, "Bubba Loves Rue."
Here are some favorites:
April 25, 2016 | No Comments » | Topics: Cats, Cute |
Since before her human baby companion was even born, Panda the cat has been working to keep him safe. "Once I got pregnant she started following me around the house, tucking her head on my belly, purring. She loved him and kept him safe for 9 months inside, now she does the same on the outside! Unconditional love!" Liel Ainmar Assayag, Panda's human, told Love Meow. "Now, 3 months later, she jumps on the bed near him, smells him, sits next to him. You can clearly see she loves him from the beginning!"
Though the 2.5-year-old feline now adores her household's new addition, she was a bit confused when he first arrived. Panda soon took a moment to smell the baby boy, realized he was her friend, and has been staying close by him ever since. Assayag made sure to add, "The cats are not allowed in the baby's bed when the baby is in the crib, but every time I put the baby in the crib I can see lots of cat fur all over the bed—they were guarding the bed for him. They call me at night when the baby is crying, laying down beside him to keep him safe…"
We have a feeling that Panda will end up being a great babysitter.
April 22, 2016 | No Comments » | Topics: Cute |
Chubby Little Potato 
April 20, 2016 | No Comments » | Topics: Cute, Dogs |
Going to a dentist is something that definitely no one looks forward to, except maybe the ones that love the pain… But the majority of the people tries to delay those visits as long as they can. But, if your dentist works in the Pediatric Dentistry of Northbrook, Illinois, the teeth check up and any eventual procedure is actually a pleasant one. You are probably thinking "That is impossible!" The trick is that this dentist office has hired a very unusual assistant. No, it is not a super hot nurse in a mini skirt and a cleavage down to her belly button, but a 6-year-old Golden Retriever named Jojo.  This kind and gentle Retriever is actually a trained comfort dog, and she is the best when it comes to reducing the stress during the appointments.
April 15, 2016 | No Comments » | Topics: Cute |
Am I booooothering you? 
April 14, 2016 | No Comments » | Topics: Cute, Dogs |
Two rescue dogs, Pikelet and Patty Cakes from Sydney, Australia, are becoming an Internet sensation after they befriended their new duck siblings in a big way.
The dogs' owners brought the little ducks home from the Wollongong Animal Rescue Network after agreeing to foster them temporarily.
April 11, 2016 | No Comments » | Topics: Animals, Cute |
April 8, 2016 | No Comments » | Topics: Cute |
"Come see my babies" 
April 5, 2016 | No Comments » | Topics: Cute |
1. "Meet Patches. We adopted him from an animal shelter. This was his first day at his new home."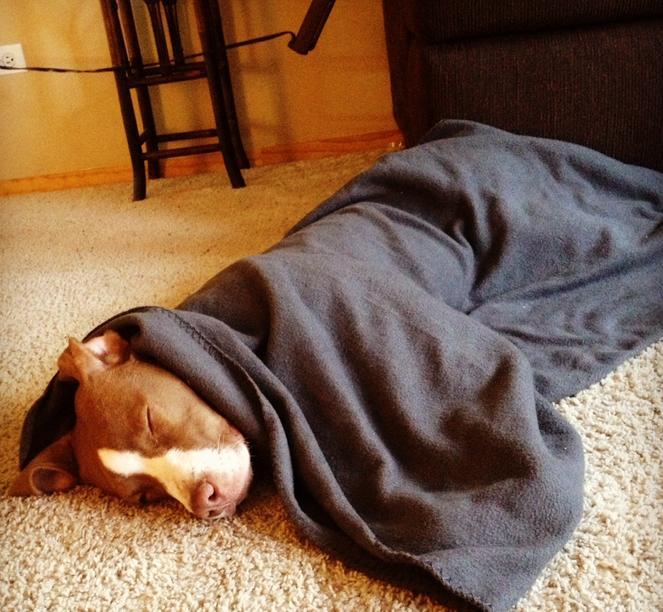 2. "His first day in our home after we rescued him."