Dogs
March 29, 2016 | 1 Comment » | Topics: Dogs, Funny Pictures |
1. No matter where you are, no matter what streets you have to cross, if you see a dog you MUST say hello to him.
March 24, 2016 | No Comments » | Topics: Dogs |
On May 12, Diane and Tony Rowles, the staff of Ruzodem Street Dog Rescue in Bulgaria, received a post on their website from someone who had spotted a dog in desperate need in a nearby town.
Rudozem Street Dog Rescue is a nonprofit Bulgarian foundation that rescues sick and abused street dogs, rehabilitates them, and gives them loving homes.
March 23, 2016 | 1 Comment » | Topics: Dogs |
Five weeks ago, Luna, a 1-and-a-half-year-old German-shepherd-husky mix, was on a commercial fishing trip with her owner, Nick Haworth, when she accidentally fell overboard.
The two of them were a few miles away from the coast of San Diego, CA.
March 23, 2016 | No Comments » | Topics: Dogs, Heartwarming |
After returning home, a soldier reunited with her senior dog. The touching moment was captured on a video watched by millions of people.
Private Hannah Foraker left her home in Cleveland, Ohio in September to join the Army and begin basic training at Fort Sill in Oklahoma. She had never been away from her home for an extended time, or her beloved dog, Buddy.
So, when Foraker returned three months later after completing the training, she could hardly contain her excitement when she saw her 13-year-old golden retriever. And Buddy felt the same way. Despite suffering from arthritis and nearly deaf, the dog was still very over the moon.
"Buddy came running, as best as she could, out of the house, and said hello to everyone," Foraker told KTLA. "At first she didn't even realize I was there, but she did a double take and came bounding over to me whining nonstop in pure glee."
The touching moment, which occurred last Christmas, was captured on tape and was recently uploaded to the web. To date, it has already been viewed more than 2 million times.
While the reunion was touching, it was also short. Foraker isn't expected to return back to her home until next Christmas. She calls her elder dog a "fighter" and hopes she will be around when she returns home. In the meantime, Foraker interacts with her pup through Skype, telling the outlet:
"She doesn't understand that her mommy is on the other side of the screen, but she can hear me (with the volume all the way up) and always perks her ears and starts wagging her tail."
March 23, 2016 | No Comments » | Topics: Dogs |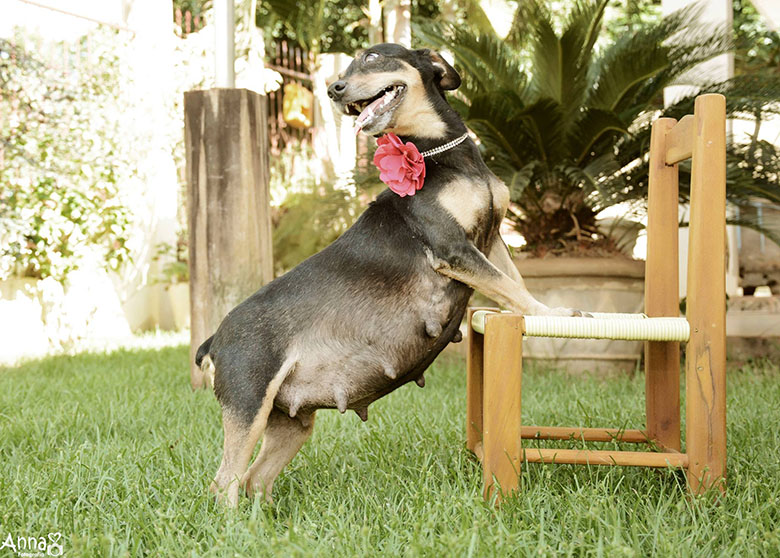 It seems like maternity photos are growing more popular by the year. Soon-to-be-moms proudly showing off their cute bellies in images they will have cherish for a lifetime.
Well, this trend has trickled into the dog world. Yes, an expected four-legged pup has posed in a series of pictures showing off her baby bump. Named Lilica, the dog was photographed by Brazilian photographer Ana Paula Grillo.
"It was amazing, I felt like I understood her completely," Grillo told Bored Panda. "She made sensational poses!"
The next day Lilica gave birth to five healthy puppies and all found homes.
While this is super cute, keep in mind, it is important to remember there are a lot of homeless dogs, we very much fall in line with Bob Barker's motto to "have your pets spayed or neutered."
Here is Lilica in all her glory.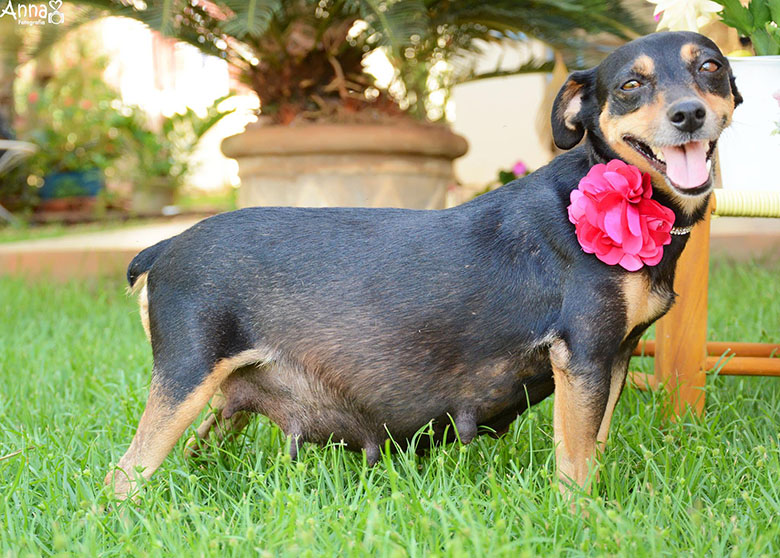 March 17, 2016 | No Comments » | Topics: Dogs |
Hope For Paws received a call about Benji, a homeless dog who had lived his whole life on the streets. They knew they had their work cut out for them, when they saw him. He was terrified to be touched and was covered with the worst matting Eldad Hagar had ever seen and fleas were crawling all over him.
Wait until you see Benji's transformation when all his fur is shaved away and he's exposed to human contact for the first time!
Share Benji's rescue with your friends and help him find a home!
March 14, 2016 | No Comments » | Topics: Dogs, Humanity |
Vultures are often viewed as harbingers of death. But in the case of one young dog, they heralded in a new life!
A disturbing scene captured outside a home in Greensboro, North Carolina in 2014, prompted neighbors into action to save the puppy. A Pit Bull was tied to a tree and peeking out of her plastic kennel surrounded by dozens of the carrion-eating birds.
A local newspaper took a photo before animal control arrived and the haunting image continues to be circulated widely on social media. But what became of the dog?
March 4, 2016 | No Comments » | Topics: Dogs, Heartwarming |
Jake was only a few weeks old when he was badly burned in a house fire and left at a vet by his family. But his story has the best ending.  He was adopted by the fireman who saved his life, and now he has become an honorary firefighter himself.
February 24, 2016 | No Comments » | Topics: Cute, Dogs |
When Officer Marcus Montgomery arrived at the Panhandle Animal Welfare Society (PAWS) for a routine call, he had no idea that he'd end up with a new, furry family member. Right after he finished dealing with a situation involving a former employee, one of the supervisors showed up with an adorably sleepy pit bull. "When the supervisor brought him in, I just looked in his eyes as he yawned at me, and I told [the] supervisor, 'Don't bring him in here, because I will take him home right now,'" Montgomery told BuzzFeed. Despite his warning, the officer ended up with the puppy in his arms and he was then told about the little guy's tragic past.
When one of PAWS' employees entered the building in the morning, they heard a noise coming from the back porch. Once they went to investigate, they found Montgomery's new friend in a box all by himself. He'd been abandoned there during the night and had to endure freezing temperatures until he was found in the morning. Even though he had to deal with these heartbreaking circumstances, his loving nature persevered. "She brings me this lil guy, chill, no whining, no barking, just chill," Montgomery writes. "So I get to hold him and he immediately curls up in my arms." The very next day, the officer took the pit bull home as a birthday present for his girlfriend.
To compliment their other rescue dog Vader and his Star Wars-inspired name, the couple ended up calling their new canine Kylo. Now, thanks to their intergalactic connection, both dogs have become the best of friends (who seem to enjoy a nap or two together).
February 22, 2016 | 1 Comment » | Topics: Dogs, feels, Life |
A dog owner shared a heartfelt tribute to his dog Benny after Benny passed away recently.
"I wrote a story to cope with my grief," said Austin, Texas musician and owner of Benny, John Pointer.
Here's is Benny's story, as posted on Facebook:
"Yesterday was a weird day. I couldn't get myself out of bed. The guy I live with lifted me up. I tried to get my legs under me, but they wouldn't cooperate. He said, 'Don't worry, I gotcha, buddy,' carried me downstairs, and out the front door. That was so nice of him. I needed to pee so badly, I just had to go right there where he put me down. Normally I wouldn't, but we both decided to make an exception to the rule.
I started walking down the parking lot toward that place where all the dogs like me go to poop. I felt my paws dragging on the ground. 'How strange,' I thought. Then suddenly, I just had to go, really badly. In the middle of the parking lot. Normally, I wouldn't do that. It's against the rules."
"My person cleaned up the mess. He's good at that. I felt embarrassed, looked at him, and he said, 'Want to keep walking, buddy?' I did, but it was surprisingly tough. By the time we reached the end of the parking lot, my head was spinning. I tried to climb the little hill, and nearly fell over. I couldn't figure out what was going on.
He reached down again, and ran his hands over me. That felt good. He picked me up, and carried me home. I was still confused, and my head was light, but I was glad not to have to walk all the way back. It suddenly seemed like an impossible distance."