Heartwarming
March 24, 2016 | No Comments » | Topics: Cute, Heartwarming |
When you need a helping hand sometimes it comes from the most unlikely of places. When 2 blind kittens, Bruce and Willis, and an older blind cat, Helen, were all brought to the Faithful Friends shelter no one expected that they would have seeing eye dogs. 
March 23, 2016 | No Comments » | Topics: Dogs, Heartwarming |
After returning home, a soldier reunited with her senior dog. The touching moment was captured on a video watched by millions of people.
Private Hannah Foraker left her home in Cleveland, Ohio in September to join the Army and begin basic training at Fort Sill in Oklahoma. She had never been away from her home for an extended time, or her beloved dog, Buddy.
So, when Foraker returned three months later after completing the training, she could hardly contain her excitement when she saw her 13-year-old golden retriever. And Buddy felt the same way. Despite suffering from arthritis and nearly deaf, the dog was still very over the moon.
"Buddy came running, as best as she could, out of the house, and said hello to everyone," Foraker told KTLA. "At first she didn't even realize I was there, but she did a double take and came bounding over to me whining nonstop in pure glee."
The touching moment, which occurred last Christmas, was captured on tape and was recently uploaded to the web. To date, it has already been viewed more than 2 million times.
While the reunion was touching, it was also short. Foraker isn't expected to return back to her home until next Christmas. She calls her elder dog a "fighter" and hopes she will be around when she returns home. In the meantime, Foraker interacts with her pup through Skype, telling the outlet:
"She doesn't understand that her mommy is on the other side of the screen, but she can hear me (with the volume all the way up) and always perks her ears and starts wagging her tail."
March 22, 2016 | No Comments » | Topics: feels, Heartwarming |
Margarita, a devoted animal lover from Merida, Yucatan, was adored for her kind nature and generosity.
Every morning, a gaggle of stray animals would appear at her front door waiting for her to feed them. She even took a bag of food with her everywhere she went in order to feed all of the stray animals she met along her way.
Margarita passed away last month after battling illness, but her kindness in life didn't go unnoticed. Family members knew Margarita was a devoted animal lover but they were nonetheless shocked when one bird and a group of stray dogs arrived to honor Margarita at her funeral on March 15.
March 22, 2016 | No Comments » | Topics: Animals, Heartwarming |
Meet Honey Bee, a blind cat from Fiji with a beautiful spirit and a wonderful message of hope. Once upon a time Honey Bee lived at an animal shelter called Animals Fiji, but today she happily lives with her 2 loving humans and 4 other cats all the way in Seattle. After first adopting a blind cat, her owners likely didn't know what to expect, but turns out Honey Bee is just like any other cat with eyes. Actually, Honey Bee is arguably WAY more incredible.
First and foremost, unlike most scaredy cats this brave cat LOVES to go hiking. On BoredPanda.com her owners write, "When we go hiking, we take her on our shoulders or with a leash. People say they love dogs because you can take them hiking, but Honey Bee loves hiking, too!"
March 17, 2016 | 1 Comment » | Topics: Heartwarming, Humanity |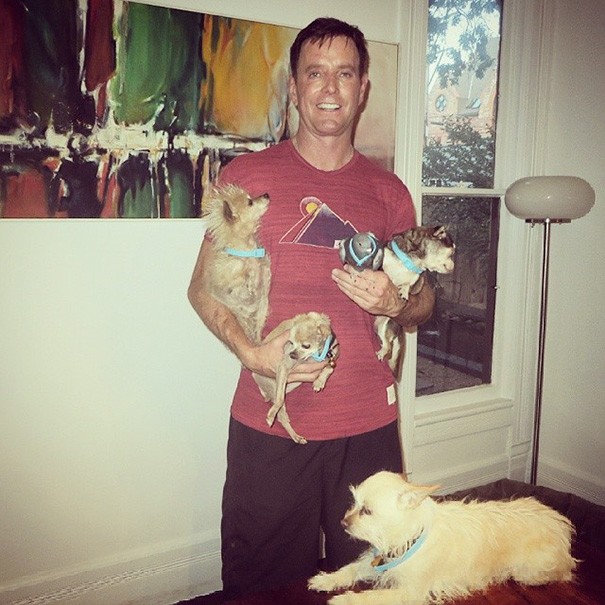 When his dog and best buddy died, animal lover Steve Greig set out to give older, overlooked dogs in shelters a new life full of love and happiness. Now, he's ended up with an entire menagerie.
His home in Denver, Colorado houses 10, mostly senior, dogs, a couple of cats, a rabbit, a pig named Bikini who thinks she's a dog, two chicks, two ducks, two pigeons and a koi-filled pond.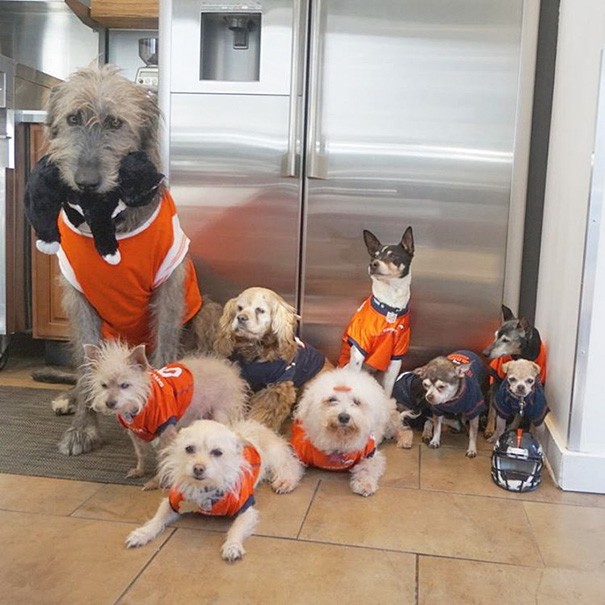 March 14, 2016 | No Comments » | Topics: Heartwarming |
Can you imagine what it must be like to be separated from your baby after you gave birth to them?
That's exactly what happened to this poor mama dog. This dog was surrendered by her owner at the Marin Humane Society in California. She was so scared, she won't move; she just cowered at the back corner of the room, looking so lost and terrified.
The shelter staff was very concerned. They examined her, and they discovered that she just recently gave birth. So they reached out to the person who surrendered the dog to also surrender the puppies.
The workers then brought the puppies in so they could reunite them with their mother. Watch the video below and see the mama dog's reaction when she saw her pups!
March 10, 2016 | No Comments » | Topics: Animals, Heartwarming |
Frida, Costela, Mel and Isabelle had a hard start at life. All four of these precious pups endured abuse and betrayal while living on the streets of Brazil. Thanks to their coach Andrea Beckert from the Association of Animal Wellbeing they now have a new chance at a happy, healthy life.
Beckert worked with the dogs for months in order to train them to be 'ball boys/girls/dogs' at the 2016 Brazil Tennis Open. The results were even better than expected. These adorable dogs decked out in colorful accessories received more attention than the actual tennis players. Not just because they are so dang cute, but also because they are excellent at their new job.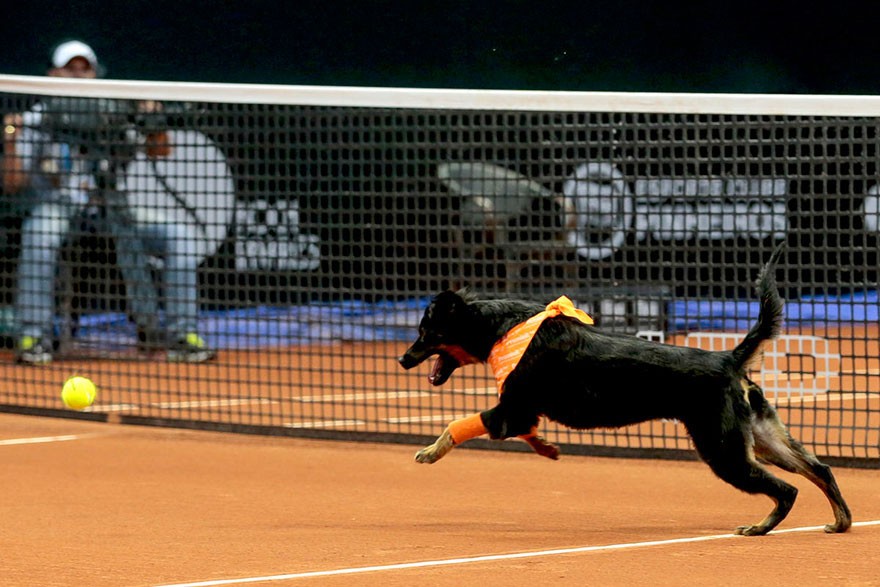 March 9, 2016 | No Comments » | Topics: Heartwarming |
When Joao Pereira de Souza, 71, found a starving penguin covered in oil on the rocks island village just outside of Rio de Janeiro, Brazil, he knew the bird would die without help. The retired bricklayer and part-time fisherman took the bird home and cleaned his feathers of the sticky black residue for a week, feeding him a diet of fish until he was nursed back to health. Once the penguin, named Dindim was recovered, Souza released him into the sea, never expecting to see his feathered friend again. But Dindim astonishingly reappeared four months later to say hello to the man who saved him! That was four years ago, and the penguin has been visiting every year since.
March 4, 2016 | No Comments » | Topics: Dogs, Heartwarming |
Jake was only a few weeks old when he was badly burned in a house fire and left at a vet by his family. But his story has the best ending.  He was adopted by the fireman who saved his life, and now he has become an honorary firefighter himself.
March 3, 2016 | 1 Comment » | Topics: Heartwarming |
Everyone, meet Adalard, or Addy for short. Addy is a 3-year-old dog with an inoperable cranial tumor. Doctors say that he only has a life expectancy of 2 days.
Addy was a stray when he came to the Montgomery County Animal Shelter. The shelter then contacted Lone Star Boxer Rescue, and now Addy is under their hospice care.
Then a family came forward to give Addy the best and most precious gift a dog could ever have–a loving family. Since they didn't know how long Addy has, the Anderson family wanted to make sure that Addy feels what it's like to be cared for and loved.