Heartwarming
February 26, 2016 | No Comments » | Topics: Cute, Heartwarming |
Seven goofy chihuahuas, including little Yuta, Hana, Nami, Mocha, and Kuma, live with their human mom in Bangkok, Thailand. The canine family is comprised of five siblings and their Chi-Chi two parents. However, the chihuahuas as a whole live under the supervision of another family pet — Ritchie the cat. That's right! Ritchie the cat plays father-figure to these seven tiny chihuahuas, and the bond between them is being documented on social media by their loving owner.
Whether they're snuggling in bed, relaxing outside in the sun, or chilling peacefully on their favorite wooden bench, Richie is always by the pups' side, keeping a close watch and letting them rest against his fluffy white-and-gray coat. Who says cats can't be maternal… or in this case, paternal?!
February 25, 2016 | 1 Comment » | Topics: Heartwarming |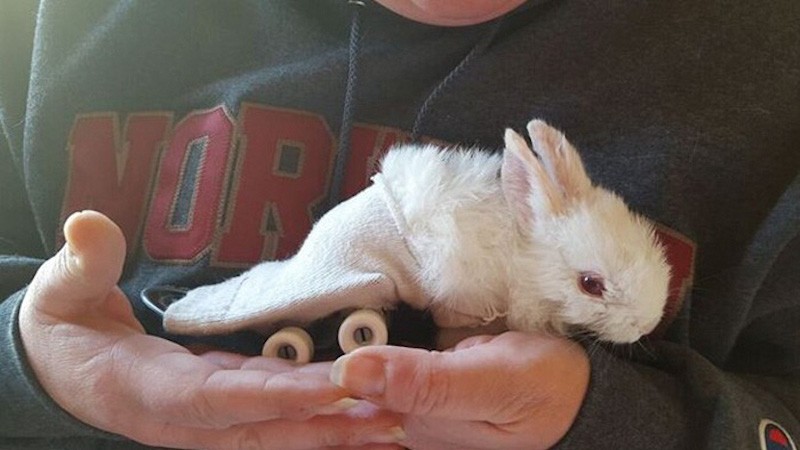 When a farmer from Overlook Acres in Amsterdam, New York, USA, found a paralyzed baby bunny frozen stiff in the snow, he knew he had to act fast. It is believed that the bunny was dragged out of his nest box and bitten by an older rabbit, and as a result the little bunny nearly lost his life.
In most cases, this sort of injury results in the animal being put down in order to prevent any pain or suffering. This bunny, now affectionately named Wheelz, was different. The farmer explained on Facebook, "He managed to still pull himself around the floor and was moving faster than the other babies."
After witnessing the bunny's sheer determination to survive, the farmer decided there was something he could do to give him the quality of life he deserved. And so he put together this tiny skateboard wheelchair for only $1, allowing Wheelz to cruise around and enjoy life. The results are incredible; you can practically see the bunny smiling as he rockets around on his skateboard wheelchair.
The photo below was taken of Wheelz after he was first brought in from the cold. The farmer wrote: "We spent quite a bit of [time] warming him up and getting his body temp up."
February 25, 2016 | No Comments » | Topics: Heartwarming |
The Shelter Buddies Reading Program at the Humane Society of Missouri is doing wonders for everyone involved.
The concept is simple: teach kids to read to shelter dogs as a way of preparing them for forever homes, all while instilling a greater sense of empathy in the youngsters, too.
Kids who sign up for the monthly program are encouraged to sit in front of a shy dog's kennel with a book and read to them.
"We wanted to help our shy and fearful dog without forcing physical interaction with them to see the positive effect that could have on them," program director Jo Klepacki told The Dodo.
"Ideally that shy and fearful dog will approach and show interest. If so, the kids reinforce that behavior by tossing them a treat. What this is also doing is to bring the animals to the front in case potential adopters come through. They are more likely to get adopted if they are approaching and interacting, rather than hiding in the back or cowering."
February 23, 2016 | 2 Comments » | Topics: Cats, Heartwarming |

In times of political crisis, humans aren't the only ones who suffer. When fleeing from war-torn countries, families struggle to make the difficult trek to safety, let alone stay united with their pets who come along for the journey.
Sadly, this was a case when a family fleeing from Iraq got separated from their adorable cat Kunkush on their journey to the Greek island of Lesbos.
This Turkish Van cat traveled to Lesbos with his family, who were fleeing Iraq. Unfortunately, amid the chaos, Kunkush and his family were separated. 
February 22, 2016 | No Comments » | Topics: Heartwarming |
A 22-year-old man is becoming an internet hero after building his girlfriend's dog a wheelchair using PVC pipes.
When James Stewart Paniagua learned his girlfriend's dog, a three-year-old Pomeranian named Benny, lost use of his back legs he had an idea.
"A couple of days ago Benny started acting very weird and skittish. The following morning he woke up dragging his hind legs. This scared everyone and my girlfriend's mom ended up taking him to the animal hospital. They informed her that the surgery would cost beyond $8,000," Paniagua explained to Victor Valley News.
When he looked into custom-built wheelchairs, they retailed for $1,000, so he decided to take the DIY route and use his ingenuity.
"I started off by Google searching 'dog do-it-yourself wheelchair.' I said, 'you know, that looks simple enough and you only need a couple pieces to it so why not? Let's try it out,'" he said.
In the end, he spent just $40 to create the wheelchair for Benny.
"I had a ton of trouble finding wheels and ended up just buying a $20 scooter from Wal-Mart and salvaging the wheels," he said. "$5 on Velcro straps, less than $5 on nuts and bolts and close to $8 on PVC pipes, joints and PVC cement."
Some items were tough to track down, but it was more than worth it to see Benny's love for the new wheelchair give him a new lease on life. Mr. Paniagua has earned major points with his girlfriend and her family.
February 18, 2016 | No Comments » | Topics: Heartwarming, Life, Love |
In an incredibly romantic gesture, an elderly Japanese man planted a sea of flowers for his beloved wife in order to plant a smile on her face.
Mr. and Mrs. Kuroki had been married for 30 years when she was diagnosed with diabetes. Only a week later, Mrs. Kuroki lost her eyesight due to complications of the disease.
No longer able to see, she became depressed and didn't even want to leave her home. Her devoted husband then decided to make it his mission to see his wife's beautiful smile again
February 17, 2016 | No Comments » | Topics: Heartwarming |
When Dale Franck's wife, Nancy, was recovering in hospital from cancer surgery and their beloved dog escaped, he feared the worst. But as it turned out, Nancy had a very sneaky, furry visitor.
Miniature Schnauzer Sissy was caught on camera sniffing around the hospital where Nancy was recuperating. Baffled hospital security managed to catch Sissy and, after checking her tags, phoned Nancy's husband, Dale.
February 16, 2016 | No Comments » | Topics: Animals, Heartwarming |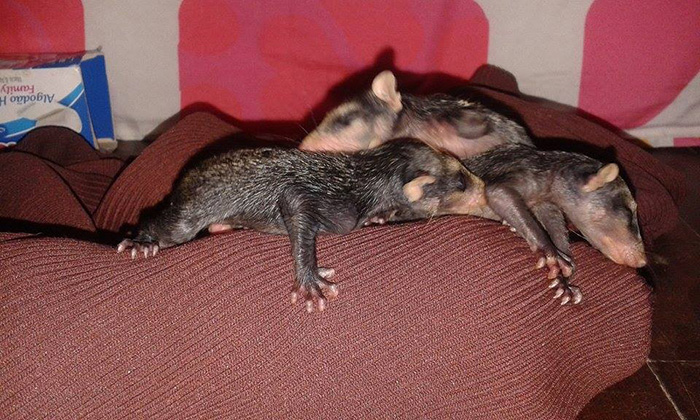 Dog trainer Stephanie Maldonado is used to all of the amazing qualities dogs posses, although even she was shocked by her dog's most recent act of kindness. About a month ago Maldonado came across a litter of tiny baby opossums that had been abandoned after their mother was tragically killed on a property.
Maldonado knew she needed to help, so she swooped the little opossums up and went to work trying to save their lives. The only problem was, they were so young they hadn't even opened their eyes yet and Maldonado wasn't doing so well nursing them on her own. That was until her dog Pretinha came to the rescue.
Pretinha knew exactly how to care for the tiny baby opossums, she nursed them, cuddled them and gave them all the love their mother would have. It wasn't long before the opossums began to gain strength, at which point they found a new favorite hobby: climbing on Pretinha's back and going for piggyback rides.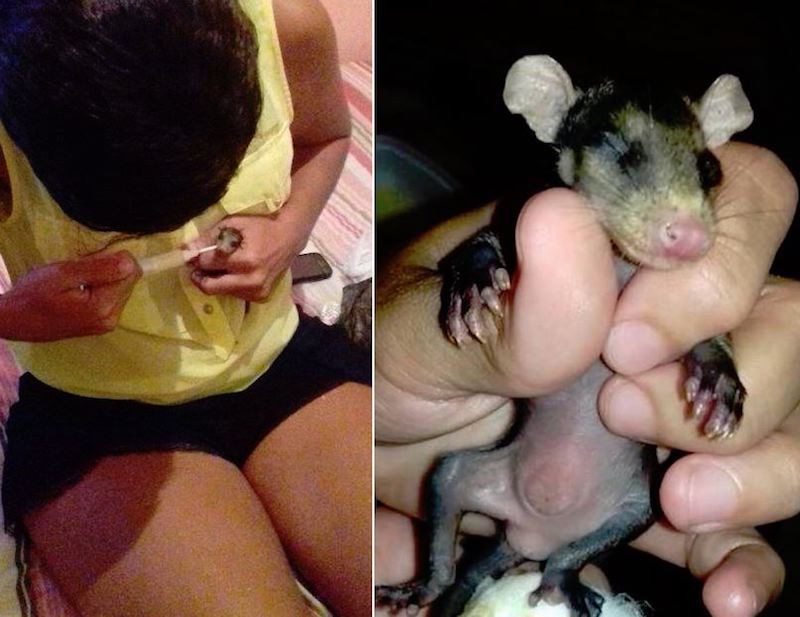 February 12, 2016 | No Comments » | Topics: Animals, Heartwarming |
#1. These two guide dogs, Salty and Roselle, carefully led their owners out of the World Trade Center on September 11th, before the towers collapsed. The dogs saved their lives.
February 11, 2016 | No Comments » | Topics: Heartwarming |
The incredible bonds that can be developed among creatures of all kinds in times of trouble never ceases to amaze me, and the one that's grown between the unlikely animal friends of the Noah's Ark Animal Sanctuary is one of the best I've heard of yet. The paths of Baloo the American Black Bear, Shere Khan the Bengal Tiger, and Leo the African Lion crossed when as only young cubs, they came under the "care" of an Atlanta, Georgia based drug dealer. Viewing the animals as nothing more than trophies, the three were badly neglected and left in dire conditions. Fortunately, their plight was discovered before it was too late when the home of the trio's owner was raided by authorities. Inside, police found the terrible conditions Baloo, Shere Khan, and Leo were being kept in. Malnourished, sick, dirty, and showing signs of abuse, they were in desperate need of help.
Stepping up in the cubs' time of need, the Noah's Ark animal sanctuary in Locust Grove, Georgia became their new home. There they would be nursed back to health, finally being given the proper care and nutrition which they had never before received. With time, their wounds would be mended, with Shere Khan being brought to a normal weight and Baloo and Leo receiving treatment for infected wounds. Baloo's situation had grown so terrible that he required surgery to a remove a harness he had long grown out of which had become embedded in his skin. The procedure would be the first time the three had ever been separated. Today, the three unlikely animal friends are closer than ever, spending their days at Noah's Ark playing and nuzzling each other's necks (Leo the lion does not have a mane because he was a neuteured at a very young age which prevents its growth). For more information on the three and the animal sanctuary at which they reside, visit the Noah's Ark website.