Humanity
April 25, 2016 | No Comments » | Topics: Dogs, Humanity |
61-year-old Jung Myoung Sook from South Korea has been saving dogs for the last 26 years. In all, Sook has saved over 200 dogs, picking up stray pups from the streets and even buying others from dog meat farms and restaurants.
Jung's incredible kindness is considered strange in South Korea, where dogs aren't popular as pets. She's had to move house seven times after neighbours complained about the noise of her one-woman dog sanctuary.
Most of the dogs live with Jung full time and she says she spends nearly $1,500 a month on their care, relying largely on donations of dog food and money to get by.
Jung said, "Some people talk about me, saying, 'Why is that beggar-like middle-aged woman smiling all the time?', but I just focus on feeding my babies. I'm happy and healthy."
April 6, 2016 | No Comments » | Topics: Humanity, Uncategorized |
If you wander the streets of Kochi, India, and visit a restaurant called Pappadavada, you will see something that is both unique and beautiful outside of the dining establishment.
The owner of the restaurant, Minu Pauline, has placed a refrigerator in front of her restaurant, and she fills it every single day with food for the homeless.
Pauline realized she didn't want to throw away unused food, so she came up with a unique and thoughtful approach to disposing of her restaurants extra food.
She leaves the refrigerator out on the curb so that no one in her community goes hungry.
The refrigerator is known as the "Tree of Goodness," and since debuting on March 23 it has fed hundreds of hungry locals.
March 31, 2016 | No Comments » | Topics: Humanity |
Deputy Police Officer Nathan Simms has been making headlines recently for acting out of the kindness of his heart.
With so many stories in the news detailing police officers in unfavorable light, it's nice to see officers making headlines for good reasons!
Caught on camera by a passerby, officer Nathan Simms is seen sitting with an elderly man while he waits for the bus. It is reported that Simms sat with the man for about 45 minutes in near 100 degree heat.
The man who caught it all, John, was so moved by what he saw, that he decided to pen a letter to Simm's supervisor, Sgt. Jerry Shelton. The letter stated:
"The scene led my thoughts to believe that the deputy was paying honor and respect to this gentleman, almost as a friend would, perhaps just keeping him company as he waited for the bus to arrive."
What a nice gesture. We hope more stories like this come to light. In today's world of scary headlines, it's always nice to see a wonderful, uplifting story like this.
March 30, 2016 | No Comments » | Topics: Dogs, Heartwarming, Humanity |
It was just another day on the bike for Brandon Turnbow when he saw something he couldn't believe: a man beating a little white dog on the side of the road.
The man threw the dog down and took off. That's when Brandon pulled over to check on the dog.
March 28, 2016 | No Comments » | Topics: Humanity |
Meet Dobri Dobrev, aged 99, a Bulgarian WWII veteran who has lost his hearing during the war. He is known by the people as "Dyado Dobri" (Grandpa Dobri) who is always seen in the streets begging for money.
For several decades Dobrev has traveled on foot from his small home in the  village of Bajlovo all the way to the city of Sofia, roughly 25 kilometers daily, where he spends the whole day begging. People know him for his gratitude towards those who drop coins into his box, ready to kiss a child's hand with a smile, and an eagerness to talk to strangers about God. It has been like this for many years.
March 17, 2016 | 1 Comment » | Topics: Heartwarming, Humanity |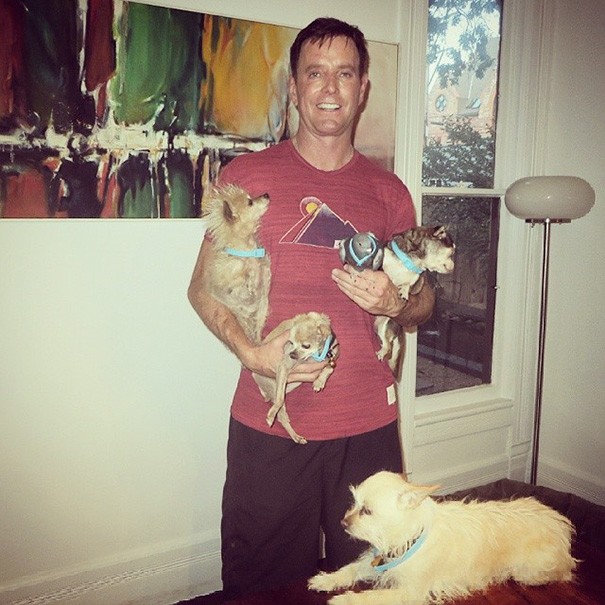 When his dog and best buddy died, animal lover Steve Greig set out to give older, overlooked dogs in shelters a new life full of love and happiness. Now, he's ended up with an entire menagerie.
His home in Denver, Colorado houses 10, mostly senior, dogs, a couple of cats, a rabbit, a pig named Bikini who thinks she's a dog, two chicks, two ducks, two pigeons and a koi-filled pond.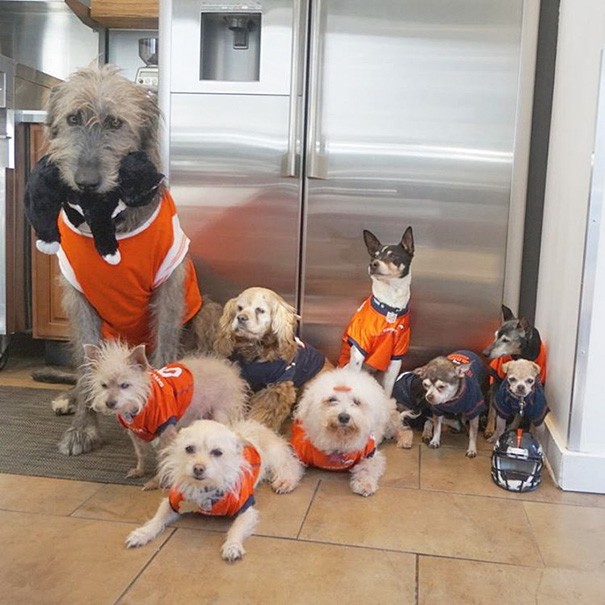 March 14, 2016 | No Comments » | Topics: Dogs, Humanity |
Vultures are often viewed as harbingers of death. But in the case of one young dog, they heralded in a new life!
A disturbing scene captured outside a home in Greensboro, North Carolina in 2014, prompted neighbors into action to save the puppy. A Pit Bull was tied to a tree and peeking out of her plastic kennel surrounded by dozens of the carrion-eating birds.
A local newspaper took a photo before animal control arrived and the haunting image continues to be circulated widely on social media. But what became of the dog?
March 11, 2016 | No Comments » | Topics: Humanity |
When you walk into a hotel lobby, you expect to see a concierge or helpful front desk clerk, but at the Aloft Hotel in downtown Asheville, North Carolina, the face behind the counter might belong to an adoptable dog who's hoping to check out with you.
The rescued dog is part of an adoption program run by the hotel and Charlie's Angels Animal Rescue. The rescue saves the pets from possible euthanasia at area shelters and they come and stay at the hotel with the hopes that they will be adopted.
"We feel like we are saving lives," said Christine Kavanagh, Aloft's director of sales told the Associated Press.
The hotel has always allowed guests' pets to stay for free. But the North Carolina hotel is believed to be the only hotel in the U.S. where guests can adopt a dog at the check in!
March 10, 2016 | No Comments » | Topics: Humanity |
A bull elephant that got stuck in the thick mud of a well in Kenya's Lewa Wildlife Conservancy was found dehydrated and scared by community members who quickly mobilized to save him.
The elephant was very thirsty and gratefully took water offered to him by rescuers. Lewa Wildlife Conservancy posted a video of the dehydrated elephant drinking the water.
March 2, 2016 | No Comments » | Topics: Humanity |
Meet Danielle Eden and Rob Scheinberg, a married couple who founded Dog Tales rescue shelter in King City, Canada.

The couple have seen their fair share of neglected dogs and inadequate shelters, but nothing could have prepared Danielle for what she was about to see when she visited a shelter in her native homeland of Israel.