Humanity
March 17, 2016 | 1 Comment » | Topics: Heartwarming, Humanity |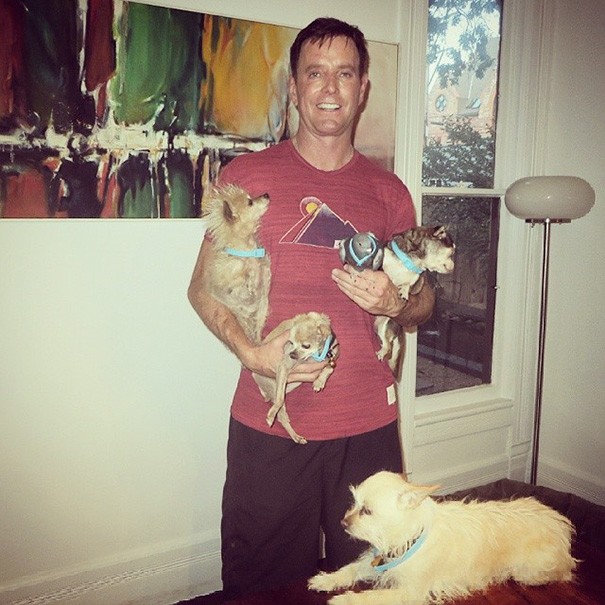 When his dog and best buddy died, animal lover Steve Greig set out to give older, overlooked dogs in shelters a new life full of love and happiness. Now, he's ended up with an entire menagerie.
His home in Denver, Colorado houses 10, mostly senior, dogs, a couple of cats, a rabbit, a pig named Bikini who thinks she's a dog, two chicks, two ducks, two pigeons and a koi-filled pond.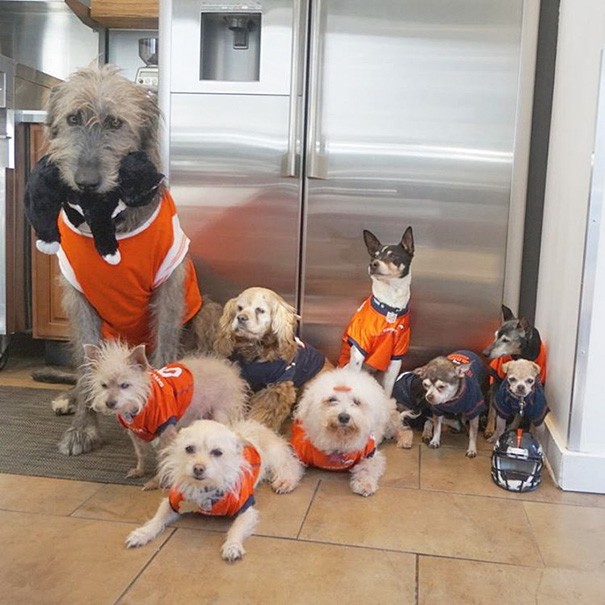 March 14, 2016 | No Comments » | Topics: Dogs, Humanity |
Vultures are often viewed as harbingers of death. But in the case of one young dog, they heralded in a new life!
A disturbing scene captured outside a home in Greensboro, North Carolina in 2014, prompted neighbors into action to save the puppy. A Pit Bull was tied to a tree and peeking out of her plastic kennel surrounded by dozens of the carrion-eating birds.
A local newspaper took a photo before animal control arrived and the haunting image continues to be circulated widely on social media. But what became of the dog?
March 11, 2016 | No Comments » | Topics: Humanity |
When you walk into a hotel lobby, you expect to see a concierge or helpful front desk clerk, but at the Aloft Hotel in downtown Asheville, North Carolina, the face behind the counter might belong to an adoptable dog who's hoping to check out with you.
The rescued dog is part of an adoption program run by the hotel and Charlie's Angels Animal Rescue. The rescue saves the pets from possible euthanasia at area shelters and they come and stay at the hotel with the hopes that they will be adopted.
"We feel like we are saving lives," said Christine Kavanagh, Aloft's director of sales told the Associated Press.
The hotel has always allowed guests' pets to stay for free. But the North Carolina hotel is believed to be the only hotel in the U.S. where guests can adopt a dog at the check in!
March 10, 2016 | No Comments » | Topics: Humanity |
A bull elephant that got stuck in the thick mud of a well in Kenya's Lewa Wildlife Conservancy was found dehydrated and scared by community members who quickly mobilized to save him.
The elephant was very thirsty and gratefully took water offered to him by rescuers. Lewa Wildlife Conservancy posted a video of the dehydrated elephant drinking the water.
March 2, 2016 | No Comments » | Topics: Humanity |
Meet Danielle Eden and Rob Scheinberg, a married couple who founded Dog Tales rescue shelter in King City, Canada.

The couple have seen their fair share of neglected dogs and inadequate shelters, but nothing could have prepared Danielle for what she was about to see when she visited a shelter in her native homeland of Israel.
March 1, 2016 | No Comments » | Topics: Humanity |
March 1, 2016 | 1 Comment » | Topics: Humanity |
February 29, 2016 | No Comments » | Topics: Humanity, Life |
There's nothing like a good haircut to make you feel like a brand new person. And the same can be said for a dog too. For shelter dogs, it can make all the difference in the world. A good haircut can not only improve their mood and their health, it can increase their chances of being adopted.
Enter Mark Imhof, a volunteer groomer for Animal Care Centers of NYC (ACC). Mark is an NYU MBA former businessman turned dog groomer. A few years ago, he wanted a career shift and to work with animals. After getting his grooming training and certification, he decided to use his skills to help transform shelter animals and make them become more adoptable.
February 19, 2016 | No Comments » | Topics: Humanity, Life |
Like most people, Balu was never sure what he wanted to do with his life, he just knew that he wanted to help animals. So it's probably not surprising that the Indian man saved money for over a decade so he could afford to buy a van, which he used to start a unique ambulance service that takes hurt and homeless dogs in Pune, India, to vets for treatment.
He's not just an ambulance driver either, Balu also takes care of sick cats and dogs in his home. He has learned the basics of animal care and he knows enough to dress their wounds, put up saline solutions, and give them medication. To offset the cost of his services, he charges pet owners around 15 cents a mile to drive their sick pets to a vet.

(more…)
February 1, 2016 | No Comments » | Topics: Humanity |
At first glance, the village of Hogeweyk in the Dutch town of Weesp looks like an ordinary place. There are shops and residences, parks and restaurants, and even a theater. There are only 152 people living here, though, and you might notice that all of them are elderly. The younger people here are actually staff–nurses, doctors, and specialists–who work around the clock.
The village is actually a pioneering step in the future of elder and dementia care. Each of the 152 residents are eldery folks living with severe Alzheimer's and/or dementia, and need nursing home facilities. However, instead of confining them to a depressing room in an institution-like setting, the residents Hogeweyk enjoy complete freedom as well as privacy and autonomy.