Uplifting
September 22, 2016 | No Comments » | Topics: Uplifting |

Meet Mary Cotter, who recently turned 103 years old. But instead of sitting down and putting her feet up, Cotter decided to dress up as a real-life Wonder Woman and volunteer at the Montclair Senior Center, California, serving tea and cakes to the residents
She's been volunteering there for the past 25 years, and her friends affectionately call her their "barmaid" because she serves them tea, coffee, and water
September 21, 2016 | No Comments » | Topics: Animals, Cats, Uplifting |
32-year-old biker and sheet metal worker Pat Doody recently rescued a kitten while riding cross country from Nevada to New Jersey. He found the kitten at a gas station and gave it the best name he could think of at the time: "Party Cat."
"I was at this truck stop getting gas, and this little guy just needed help," he told Revzilla. "He was pretty badly burned, so I picked him up and tucked him inside my vest. We're feeding him regularly now, so he's doing better, even though he's sort of living on the road until we get home."
April 4, 2016 | No Comments » | Topics: Animals, Uplifting |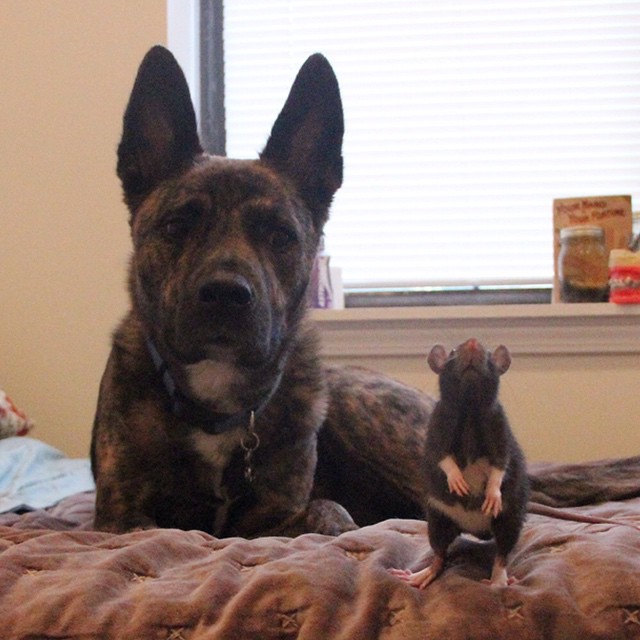 Osiris is a 3-year-old Dutch shepherd therapy dog that befriended a 3-month old rescued pet rat named Riff Rat. The pet rat and therapy dog don't just tolerate one another they are real life best friends forever.
Riff Rat had a rough start, and was rescued at only 4 weeks of age in pretty bad shape. He was nursed back to health with a syringe and plenty of love from kind-hearted humans as well as Osiris the gentle giant therapy dog. Dutch shepherds are well known for their ease of training and obedience, but Osiris takes being a great dog to a whole different level. Osiris allows Riff Rat to crawl inside of his mouth and clean his teeth, and no one even worries that the dog will make a snack out of the little rat.
Osiris' owner writes on @osirisandriff Instagram, "Riff Ratt really likes licking the inside of Osiris' mouth. I'm sure you all are wondering if we're afraid Osiris will eat Riff – NOPE! Osiris has helped foster and care for dozens of animals and he is the gentlest dog I've ever met."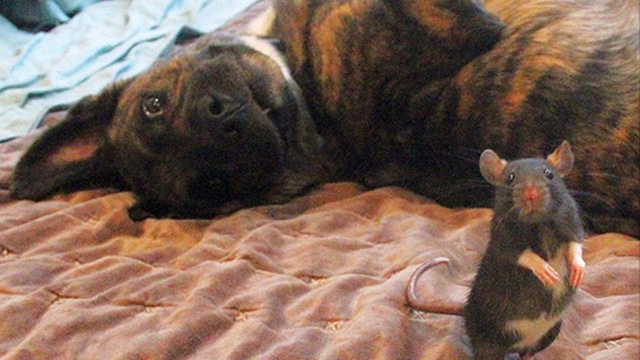 November 16, 2015 | No Comments » | Topics: Uplifting |

Humanitas is one of the Netherlands' main social services organizations and is a nonprofit association which seeks to provide support to people who are temporarily unable to manage on their own, and one of their major areas of focus is elder care. Social isolation and loneliness is a chronic problem for the elderly, but a Humanitas nursing home in Deventer, Netherlands is now taking a unique approach to solve that.
The home is offering free housing to local students, and in exchange the students agree to spend a minimum of 30 hours per month interacting with the 160 seniors living there. This can be anything from helping with meal prep, shopping trips, teaching them to use computers, playing games and much more.
November 9, 2015 | 1 Comment » | Topics: Uplifting |
Jamie Lewis and Denine Davies' son Mason was diagnosed with autism a few months ago, and they were struggling to find a barber who could help their boy sit down and feel comfortable during a haircut. Because of sensory overload, haircuts are often difficult and even painful for people with autism. Hairdresser James Williams tried a number of times to give Mason a cut, but he hadn't yet succeeded.
"Over last few months I have been attempting to find different ways how to cut Mason's hair," Williams, based in Wales, wrote on his Facebook page, "but he wouldn't allow me to go near one of his ears. He would run away on times if he wasn't up to it."
Instead of forcing Mason to do something uncomfortable, one day Williams dropped to the floor with him.
November 6, 2015 | No Comments » | Topics: dog, Uplifting |
A dog named Kirsch earned an Honorary Master's Degree at the Johns Hopkins University School of Education. This adorable service dog sat through all the classes together with his human, Carlos Mora. He was able to attend the classes included in Mr. Mora's program for him to finish his Master's Degree in Mental Health Counseling. So during graduation day, Kirsch was also with Mr. Mora, wearing a cap and graduation gown.
Kirsch was the most adorable graduate there. He and his human were the last ones called on stage. And when they were called, this was what the college officials said,
"Our last counseling degree graduate to walk across the stage tonight is Carlos Mora and his service dog, Kirsch. Since Kirsch sat through every class with Carlos, both will be receiving a master's degree in mental health counseling. We want everyone to know that Kirsch was not charged for his degree."
November 5, 2015 | No Comments » | Topics: Uplifting |
Estella is a darling guinea pig who's unable to move her lower body. She was found on the side of the road in the spring of 2015 in Calaveras Country, California together with her guinea pig "beau," Pip. They were abandoned by their previous owner. He squeezed Estella so hard she broke her back and lost control of her lower body.
The two rodents were dropped at a shelter by the person that found them on the side of the road and after a month they found peace at Harvest Home.
The Harvest Home Animal Sanctuary, in French Camp, California launched a Facebook fundraiser to build a device that could help Estella move. She needed a custom wheelchair like the ones used by dogs or cats, only smalller. A lot smaller.
November 5, 2015 | 2 Comments » | Topics: Dogs, Uplifting |
67-year-old David Bahnson didn't want to go canoeing without his best friends, so he decided to modify his kayak so both of his Golden Retrievers, Susie and Ginger, could go on adventures with him.
"It's like a triple kayak, only there isn't enough room for the paddlers to put their feet — but it's perfect for a dog… They never hopped out into the water, actually," Bahnson told The Dodo.
October 19, 2015 | No Comments » | Topics: Humanity, Uplifting |
Liam Murphy, an engineer from Cork, Ireland is currently visiting the United Arab Emirates for work. On his day off, he decided to visit the theme park Ferrari World in Abu Dhabi. On the way there, he discovered that his taxi driver, Shakiha, had never been to a theme park and was going to "wait in the car for four hours." So Murphy invited him along…
October 12, 2015 | No Comments » | Topics: Uplifting |
This is Philippe Morgese and his beautiful daughter Emma. Philippe became known on Facebook for doing really fun designs with his daughter's hair. After winning a contest and a TV appearance, dads started asking him for advice on hair. That's when he saw an opportunity to do something great for the community. This is Philippe Morgese and his beautiful daughter Emma. He created a "Dads and Daughters" hair class to help other fathers learn about doing hair.
The class was full of dads learning basic brushing, ponytails, braids and buns with their little girls.
"We had a prison guard, mechanic, general contractor, ATT tech, Apple tech, healthcare recruiter and a carpenter," Philippe said. "Definitely out of their element but they were all excited to learn. It was beautiful."