April 5, 2016 | No Comments » | Topics: Life, Quotes |
1. "Mistakes are a great educator when one is honest enough to admit them and willing to learn from them." – Alexander Solzhenitsyn
2. "Never let anyone disturb your composure, deter your accomplishment, or destroy your happiness." – Anonymous
3. "You can only try your best. And if they can't appreciate that, it's their fault, not yours." – Anonymous
4. "Don't ever let anyone ever make you feel like you don't deserve what you want." – 10 Things I Hate About You
5. "Do not dwell on the past. Your history cannot be erased, but your future has yet to be written, so make the most of what is going to happen instead of worrying about what you cannot change."
6. "Begin somewhere; you cannot build a reputation on what you intend to do." – Liz Smith
7. "Sleep late, have fun, get wild, drink whisky and drive fast on empty streets with nothing in mind but falling in love and not getting arrested." – Hunter S. Thompson
8. "Twenty years from now you will be more disappointed by the things that you didn't do than by the ones you did do. So throw off the bowlines. Sail away from the safe harbor. Catch the trade winds in your sails. Explore. Dream. Discover." – Mark Twain
9. "Keep away from people who try to belittle your ambitions. Small people always do that, but the really great make you feel that you, too, can become great." – Mark Twain
10. "I am the only person in the world I should like to know thoroughly." – Oscar Wilde
April 5, 2016 | No Comments » | Topics: Funny Pictures |
April 4, 2016 | No Comments » | Topics: Linkage |
10 Clips Guaranteed To Make You Feel Better About Life – Caveman Circus
Women Beauty From Around The World In 100-Year-Old Postcards – Linkiest
This Is The Deadliest Trail In The World. You're About To Find Out Why – Slip Talk
The Strangest Celebrity Couples In History – Crave
Cow Awkwardly Stuck in Tree Gets Saved By Random Bikers Passing By – Rant Pets
The reaction this girl does when she gets her birthday gift is priceless… Oh My – Husky Lovers
Make These Delicious Chicken Bites for Your Dog – Dogster
7 tax strategies the rich don't want you to know – Business Insider
The Moments That Made Wrestling Fans Cry Hardest – Ranker
Famous Child Stars You Wouldn't Recognize Today – Leenks
Krysten Ritter in Esquire is smoking hot! – G-Celeb
19 Hipster Restaurants That Need To Be Immediately Fucking Stopped – Buzzfeed
Bella Thorne Would Like Some Girl on Girl Action With Jennifer Lawrence – The Blemish
Sighting Of Old, Wild Orca Makes Captivity Look Even Worse – The Dodo
25 Pics of Australian Sensation Sheridyn Fisher – Regretful Morning
The Best 100 Photos of the Week – Suburban Men
These Products Will Help You Get More Shit Done – Medium
Sometimes you just can't overcome stupid (30 Photos) – Bad Sentinel
April 4, 2016 | No Comments » | Topics: Love |
1. There is something I do to make my wife's day brighter: she truly believes that finding a penny heads up is good luck. Intermittently I will place a heads up penny somewhere slightly conspicuous so that she'll find it. I almost always do this if she's having a bad day. She's never caught on.
2. Be calm. If you're having an argument, disagreement, or any such conflict, force yourself to speak slowly and at normal volume. Don't interrupt each other. Most often, this will diffuse defuse the conflict and the two of you can speak about it rationally.
3. I know his love language. He needs/wants to be told why I love him. My gut tells me to hug him and move on, but I force myself to say out loud "Thanks for making dinner and vacuuming today, I really appreciate it".
April 4, 2016 | No Comments » | Topics: Animals, Uplifting |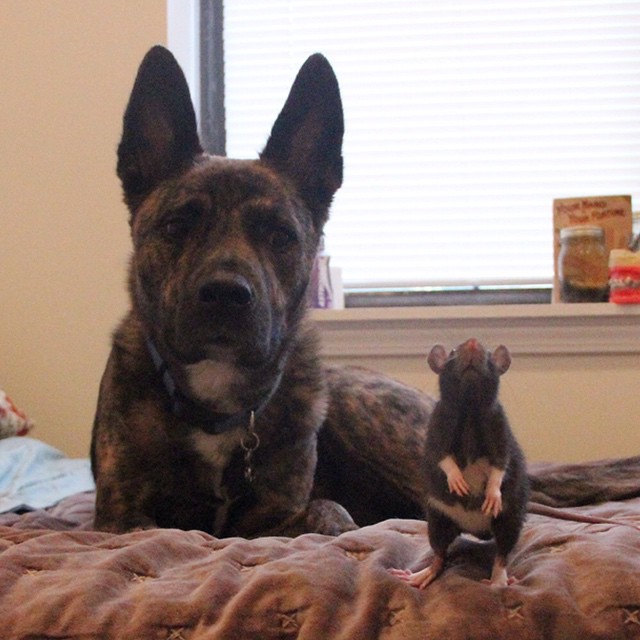 Osiris is a 3-year-old Dutch shepherd therapy dog that befriended a 3-month old rescued pet rat named Riff Rat. The pet rat and therapy dog don't just tolerate one another they are real life best friends forever.
Riff Rat had a rough start, and was rescued at only 4 weeks of age in pretty bad shape. He was nursed back to health with a syringe and plenty of love from kind-hearted humans as well as Osiris the gentle giant therapy dog. Dutch shepherds are well known for their ease of training and obedience, but Osiris takes being a great dog to a whole different level. Osiris allows Riff Rat to crawl inside of his mouth and clean his teeth, and no one even worries that the dog will make a snack out of the little rat.
Osiris' owner writes on @osirisandriff Instagram, "Riff Ratt really likes licking the inside of Osiris' mouth. I'm sure you all are wondering if we're afraid Osiris will eat Riff – NOPE! Osiris has helped foster and care for dozens of animals and he is the gentlest dog I've ever met."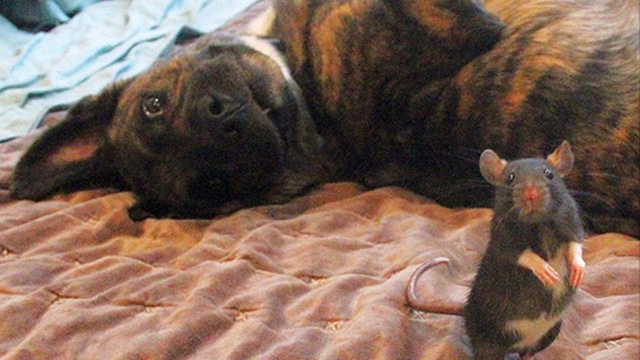 April 4, 2016 | No Comments » | Topics: Life |
April 1, 2016 | No Comments » | Topics: Smile |
April 1, 2016 | No Comments » | Topics: Cute |
Cutest little swimmer
March 31, 2016 | No Comments » | Topics: Linkage |
This amazing Japanese hotel has been welcoming guests for 1,311 years – Leenks
12 Simple Recipes That Will Elevate Your Cooking Game To The Next Level – Caveman Circus
Cats vs Cucumbers – The War That Will Never End – Bro My God
Celebs Who Lost Their Virginity To Other Celebs – Buzzlie
Kim K Just Recreated Her Infamous Nudie With Emily Ratajkowski Because She Still Has Nothing To Wear – Linkiest
This Is What Happens When A Guy Gets Sick Of Divorce And Then Loses His Job. And It's Brilliant – Slip Talk
Dog Nearly Faints With Joy When Reunited With Owner – Rant Pets
10 Things Scientifically Proven To Make People Happy – Crave
The Pet Project Works to Keep Pets and Their People Together – Dogster
For some reason this delightful dog thinks he is a meerkat… LoL – Husky Lovers
Carmen Electra's Booty Still Looks Nice – G-Celeb
Want to Sleep In an Underwater Room Surrounded by Sharks For Free? – Worthly
Courtney Stodden Reveals Her True Self in Makeup Free Selfie…Yikes! – The Blemish
Rise & Shine (29 Photos) – Suburban Men
Some people need a bit more help when it comes to parenting (34 Photos) – Bad Sentinel
March 31, 2016 | No Comments » | Topics: Life |