May 3, 2016 | No Comments » | Topics: Animals |
April 4, 2016 | No Comments » | Topics: Animals, Uplifting |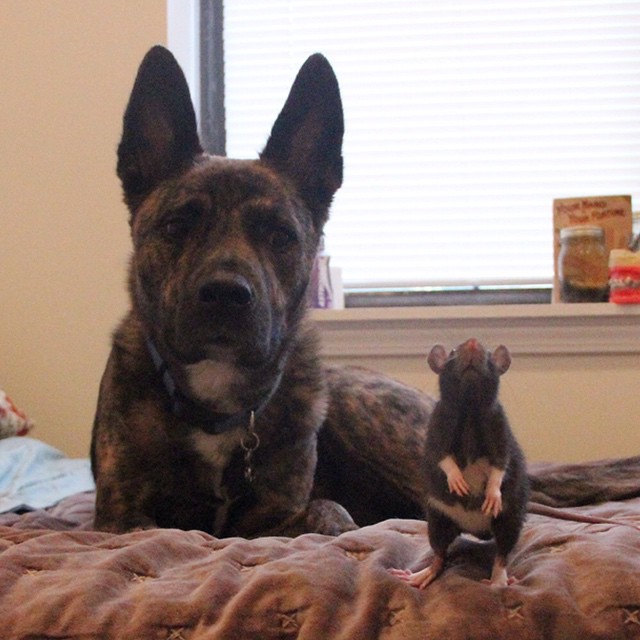 Osiris is a 3-year-old Dutch shepherd therapy dog that befriended a 3-month old rescued pet rat named Riff Rat. The pet rat and therapy dog don't just tolerate one another they are real life best friends forever.
Riff Rat had a rough start, and was rescued at only 4 weeks of age in pretty bad shape. He was nursed back to health with a syringe and plenty of love from kind-hearted humans as well as Osiris the gentle giant therapy dog. Dutch shepherds are well known for their ease of training and obedience, but Osiris takes being a great dog to a whole different level. Osiris allows Riff Rat to crawl inside of his mouth and clean his teeth, and no one even worries that the dog will make a snack out of the little rat.
Osiris' owner writes on @osirisandriff Instagram, "Riff Ratt really likes licking the inside of Osiris' mouth. I'm sure you all are wondering if we're afraid Osiris will eat Riff – NOPE! Osiris has helped foster and care for dozens of animals and he is the gentlest dog I've ever met."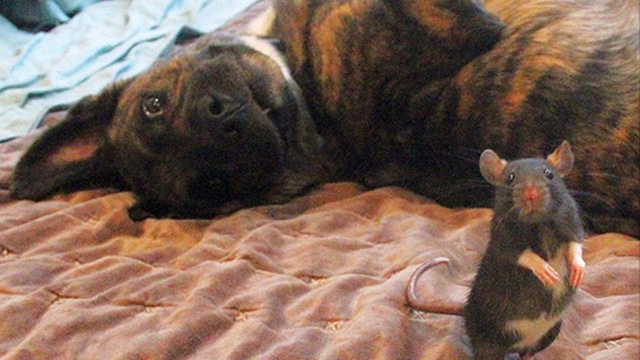 March 22, 2016 | No Comments » | Topics: feels, Heartwarming |
Margarita, a devoted animal lover from Merida, Yucatan, was adored for her kind nature and generosity.
Every morning, a gaggle of stray animals would appear at her front door waiting for her to feed them. She even took a bag of food with her everywhere she went in order to feed all of the stray animals she met along her way.
Margarita passed away last month after battling illness, but her kindness in life didn't go unnoticed. Family members knew Margarita was a devoted animal lover but they were nonetheless shocked when one bird and a group of stray dogs arrived to honor Margarita at her funeral on March 15.
March 16, 2016 | No Comments » | Topics: Animals |
Now pet owners have a new way to remember their beloved animals beyond the grave – immortalizing them as plush toys. Cuddle Clones, a company based out of Louisville Kentucky, creates cuddly versions of creatures based off photographs. From lopsided ears to battle scars and missing limbs, no details are spared. To date the firm has had requests for all kinds of critters including dogs, cats, horses, pigs and even birds.
March 15, 2016 | No Comments » | Topics: Animals, Cute |
1. "As a newly single mom, I thought we could use a third member of the family. The first ride home, I knew she was the perfect addition." – Justanexcitablegirl

2. "Bringing our Jipsee kitty home." – sklles
(more…)
March 15, 2016 | No Comments » | Topics: Animals, Cute |
February 29, 2016 | No Comments » | Topics: Animals |
They say that the eyes are windows to the soul. And in Zeus's case, that soul reflects the very universe we live in — the wondrous starry heavens that shine on every clear night.
Zeus is a very special owl. He is blind in both eyes, which was the reason he was found injured on a porch in South California. A local vet referred him to the Wildlife Learning Center Sylmar, California, where his new family named the Western Screech Owl Zeus, after the Greek god of sky and thunder.
Because he is blind, Zeus can't be released back into the wild. But he is thriving at the center as a result of the care and attention he is receiving from a team of dedicated animal lovers.
Zeus now lives in a trunk next to the desk of the center's founder Paul Hahn.
February 22, 2016 | No Comments » | Topics: Cute |
Marina was a tiny newborn kitten abandoned on the street. She was sick and in desperate need of a mother. A kind person picked her up and took her to Santuario Igualdad Interespecie, an animal sanctuary in Santiago, Chile.
When she arrived in the sanctuary, she was very weak, but her will to live was strong. The rescuers tried everything they could to save her. The next day, the tiny kitten got her energy back and even started playing with the caretakers.
February 19, 2016 | No Comments » | Topics: Animals, Cute |
Tanja Brandt is a German photographer who has dedicated her careertowards photographing animals and wildlife. In one of her most recent projects, Brandt shot photographs of a highly unlikely pair of friends – Ingo, the Belgian shepherd; and Poldi (Napoleon), the one-year-old owlet.
(more…)
February 16, 2016 | No Comments » | Topics: Animals, Heartwarming |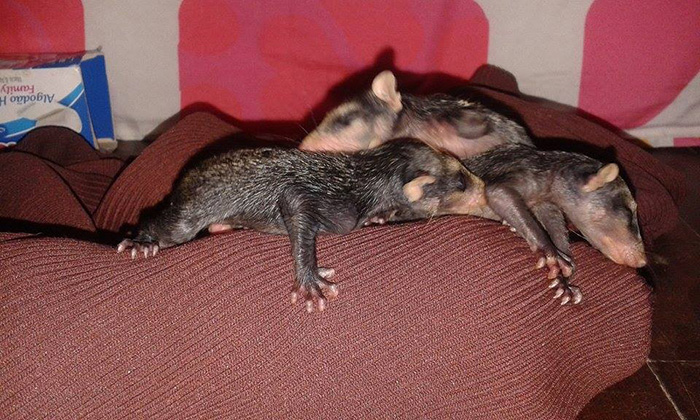 Dog trainer Stephanie Maldonado is used to all of the amazing qualities dogs posses, although even she was shocked by her dog's most recent act of kindness. About a month ago Maldonado came across a litter of tiny baby opossums that had been abandoned after their mother was tragically killed on a property.
Maldonado knew she needed to help, so she swooped the little opossums up and went to work trying to save their lives. The only problem was, they were so young they hadn't even opened their eyes yet and Maldonado wasn't doing so well nursing them on her own. That was until her dog Pretinha came to the rescue.
Pretinha knew exactly how to care for the tiny baby opossums, she nursed them, cuddled them and gave them all the love their mother would have. It wasn't long before the opossums began to gain strength, at which point they found a new favorite hobby: climbing on Pretinha's back and going for piggyback rides.