June 20, 2016 | No Comments » | Topics: Animals, Culture |
May 19, 2016 | No Comments » | Topics: Animals |
May 13, 2016 | No Comments » | Topics: Animals, Cute |
Meet Bob, a friendly golden retriever that lives in São Paulo, Brazil, with his human and his 8 little best friends. The handsome pooch has taken the internet by storm with photos of him posing peacefully with his besties, traveling around the Globe, and just being downright adorable. If this is what a dog's life is all about, then sign me up!
May 12, 2016 | No Comments » | Topics: Animals |
Out in the vast wilds of Kenya's southern savanna, the singular remnant of a once wide-ranging subspecies of rhinoceros stands precariously close to the edge of extinction. The Northern White Rhino, which once ranged over much of the central and eastern regions of the African continent, is staring down the barrel of a gun – literally.
Only a single male by the name of Sudan is left in the wild. Luckily, he doesn't stand alone.
Rangers from the Ol Pejeta Conservancy guard Sudan 24/7 in an desperate effort to protect him from harm.
May 10, 2016 | No Comments » | Topics: Animals, Cute |
May 3, 2016 | No Comments » | Topics: Animals |
April 4, 2016 | No Comments » | Topics: Animals, Uplifting |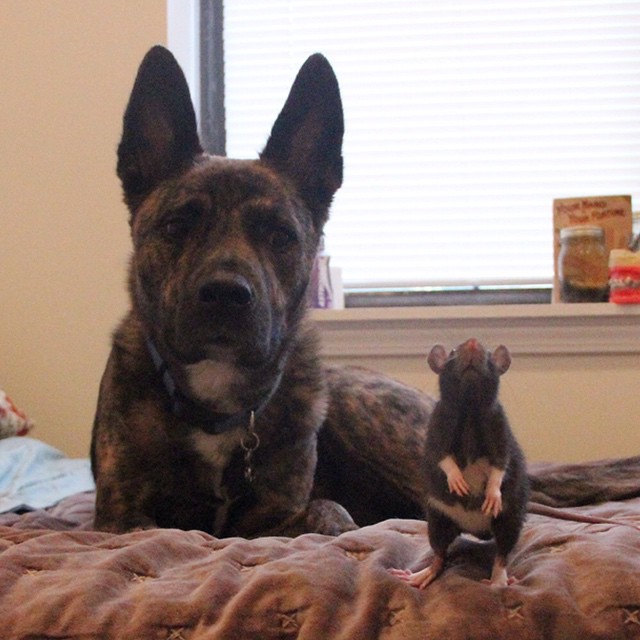 Osiris is a 3-year-old Dutch shepherd therapy dog that befriended a 3-month old rescued pet rat named Riff Rat. The pet rat and therapy dog don't just tolerate one another they are real life best friends forever.
Riff Rat had a rough start, and was rescued at only 4 weeks of age in pretty bad shape. He was nursed back to health with a syringe and plenty of love from kind-hearted humans as well as Osiris the gentle giant therapy dog. Dutch shepherds are well known for their ease of training and obedience, but Osiris takes being a great dog to a whole different level. Osiris allows Riff Rat to crawl inside of his mouth and clean his teeth, and no one even worries that the dog will make a snack out of the little rat.
Osiris' owner writes on @osirisandriff Instagram, "Riff Ratt really likes licking the inside of Osiris' mouth. I'm sure you all are wondering if we're afraid Osiris will eat Riff – NOPE! Osiris has helped foster and care for dozens of animals and he is the gentlest dog I've ever met."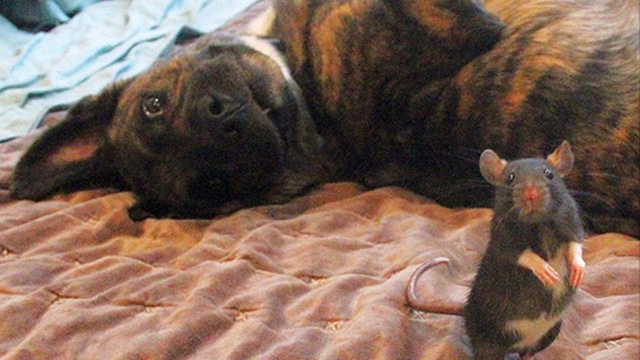 March 22, 2016 | No Comments » | Topics: feels, Heartwarming |
Margarita, a devoted animal lover from Merida, Yucatan, was adored for her kind nature and generosity.
Every morning, a gaggle of stray animals would appear at her front door waiting for her to feed them. She even took a bag of food with her everywhere she went in order to feed all of the stray animals she met along her way.
Margarita passed away last month after battling illness, but her kindness in life didn't go unnoticed. Family members knew Margarita was a devoted animal lover but they were nonetheless shocked when one bird and a group of stray dogs arrived to honor Margarita at her funeral on March 15.
March 16, 2016 | No Comments » | Topics: Animals |
Now pet owners have a new way to remember their beloved animals beyond the grave – immortalizing them as plush toys. Cuddle Clones, a company based out of Louisville Kentucky, creates cuddly versions of creatures based off photographs. From lopsided ears to battle scars and missing limbs, no details are spared. To date the firm has had requests for all kinds of critters including dogs, cats, horses, pigs and even birds.
March 15, 2016 | No Comments » | Topics: Animals, Cute |
1. "As a newly single mom, I thought we could use a third member of the family. The first ride home, I knew she was the perfect addition." – Justanexcitablegirl

2. "Bringing our Jipsee kitty home." – sklles
(more…)