September 3, 2014 | No Comments » | Topics: Culture, Photography |
Kids Traveling To A Boarding School Through The Himalayas, Zanskar, Indian Himalayas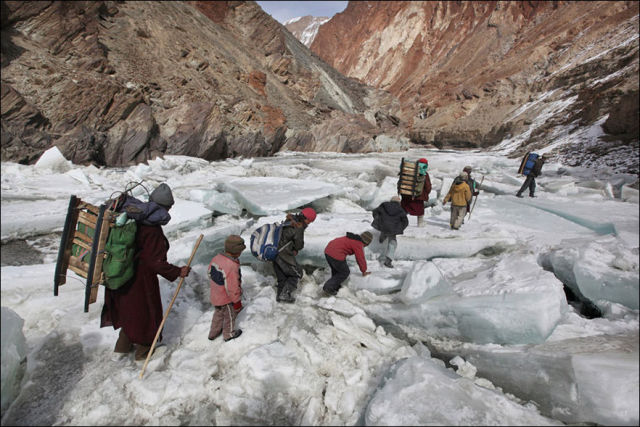 Pupils Canoeing To School, Riau, Indonesia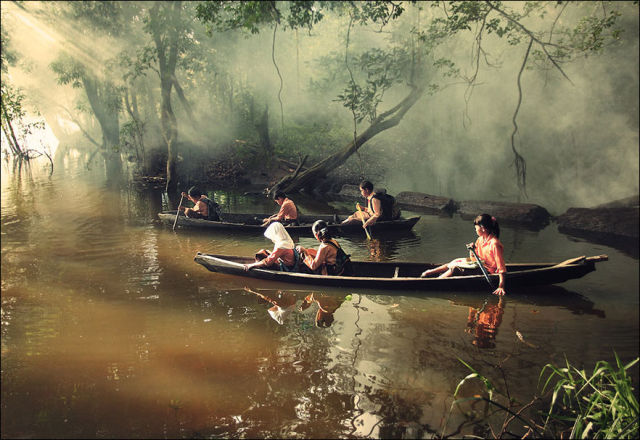 August 28, 2014 | No Comments » | Topics: Culture, Photography |
August 27, 2014 | No Comments » | Topics: Culture, Food |
Prawns.
Chicken and stew.
August 7, 2014 | No Comments » | Topics: Culture, Interesting |
This is a culture where drinking parties are job requirements. It's a place where you can market a product that lets you consume more alcohol while getting less drunk. Think about that for a minute: You pay 100 yen for a product that lets you consume more but feel it less. This only makes sense in a culture of competitive, shot-for-shot drinking, where keeping pace with your coworkers and superiors is rule ichiban.
Sixty percent of problem drinkers are salaried businessmen who claim that getting drunk with clients or coworkers is part of their job and a mark of company loyalty. To refuse a drink from the boss is a terrible insult that can damage a career. And although alcohol consumption is now decreasing in most industrialized countries, it has quadrupled in Japan since 1960.
(link)
July 30, 2014 | No Comments » | Topics: Food |
China, Taiwan, Hong Kong – Black White Burger
Canada – Poutine
July 2, 2014 | No Comments » | Topics: Culture, Food |
Vada Pav, India
vada pav starts with balls of spiced mashed potato dipped in a chickpea flour batter and deep-fried until golden. Next, thinly sliced green chili peppers are battered and tossed into the roiling oil. Meanwhile, soft chewy rolls are smeared with various chutneys like tamarind, mint-coriander or peanut-garlic. The roll is stuffed with one or two potato fritters, a clutch of golden chili strips and the whole beautiful mess is squished together
Chicken Rice, Singapore
The dish is nothing more than poached chicken served over rice.  The chicken is poached on a low simmer in a gingery broth until perfectly cooked, still moist and juicy. The same broth is also used to simmer the jasmine rice, after it's been sautéed in ginger and garlic. Slices of chicken are served over rice with a side of broth, sliced cucumber and hot sauce 
June 25, 2014 | No Comments » | Topics: Culture, Food |
Country: China
Contents: A fish, scrambled egg with tomato sauce, rice, spinach, cauliflower, and soup
Country: Buchach, Ukraine
Contents: Soup, macaroni, pickle, bread, sliced hot dog
June 12, 2014 | No Comments » | Topics: Interesting |

This is a luxury fruit parlor in Tokyo. It is the flagship store of the Sembikiya fruit emporium. Run by the same Samurai-descendant family since 1834, Sembikiya began as a discount fruit store. But the wife of the second-generation owner decided they could make more money the other way around. Sembikiya management estimates that 80-90 percent of their products are bought as gifts as it's customary in Japan to give high-end fruits as presents for formal occasions like weddings, business transactions, and hospital visits.
According to research by Takasago, an international flavor and fragrance company based in Japan, fruit as a luxury item stems from the fact that vegetables were always plentiful in Japanese agriculture, meaning fruit was not essential for nutrition.
In Europe, where Western culture originated, much of the water is hard water, which is difficult to drink, and few crops could provide a source of vitamins throughout the year, so fruits, which were rich in water content and vitamins, were considered essential food in people's lives. Fruits were also the main type of preserved foods, being used for jams, juices, wines, and more. In contrast, Japan has a lot of rain, good quality water, and the availability of an abundance of vegetables and edible wild plants year round, from which water content and vitamins can easily be obtained. For this reason fruits were always considered luxury items and gift items.
$21 "Sekai-ichi" apples.
April 28, 2014 | No Comments » | Topics: Culture, Interesting |
Eating (and drinking) in West Africa is certainly an experience. While eating out in poorer countries like Liberia is considered a luxury, in wealthier Ghana it is more common. Here you see the 'pine Favor' restaurant, on the Togo/Ghana border. Businesses of all kinds in West Africa are often given 'religious names'….'Precious Blood of Jesus Tire Rotation Shop' is a real place in Monrovia, Liberia.
Another on the Togo/Ghana border. Dishes are often painted due to the low literacy rate of the population. This restaurant name is not a call for peace, but a shortening of the Bible verse in Isaiah 54:17 'No weapon formed against thee shall prosper', a popular West African idiom.
April 22, 2014 | No Comments » | Topics: Interesting |
In contrast to the many wealthy citizens of Hong Kong there exists a community that is unable to cope with skyrocketing housing prices. These people are quite literally forced to live in tiny metal cages. What's worse is that the cages don't come for free either. Stacked on top of each other, the 1.5 sq m enclosuress can be rented at a price of 1,300 Hong Kong dollars (about US $167) per month. These cages are crammed into a single dilapidated apartment in a working-class neighborhood in West Kowloon. Two toilet stalls are available in each apartment and have to be shared by hundreds of single, elderly men, who make up the majority of the cage-occupants. No kitchen as such is provided; there's only a small room with a sink. Almost all the men wash their clothes in a bucket. Instead of using mattresses, the men use thin pads, bamboo mats or old linoleum in their cages to keep the bedbugs away.