October 19, 2016 | 1 Comment » | Topics: Culture |
South African-born photographer John Thackwray has come up with a project to show how the lives of the same generation people from around the world differ because of the place they were born in.
He's spent more than 6 years documenting the bedrooms of over one thousand of the millennial generation people (born in the 80s and 90s) from 55 countries. The result is a photo series John calls My Room Project, which aims to capture and compare the different values, points of view and aspirations of a single generation.
The photographer also interviews the participants to get their opinions about various topics including lifestyle, local issues, education, religion, love, and many more. All of which you'll be able to find in his book that's already available for pre-order on his website.
#1 Manyatta, Kenya, Ezekiel, 22-Year-Old Warrior
October 7, 2016 | No Comments » | Topics: Photography |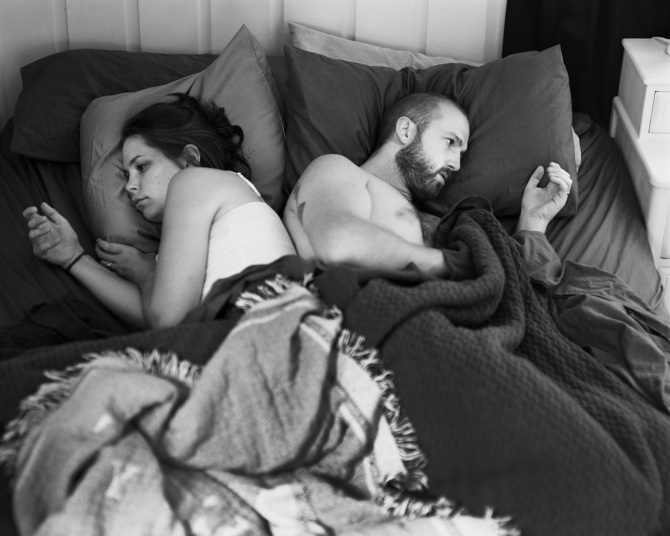 To show how physically disconnected people have become, photographer Eric Pickersgill has released a series of photos from everyday life with one minor adjustment: all electronic devices have been removed.
Pickersgill started the project after making a few observations about a family sitting next to him in a café.
"Family sitting next to me at Illium café in Troy, NY is so disconnected from one another. Not much talking. Father and two daughters have their own phones out. Mom doesn't have one or chooses to leave it put away. She stares out the window, sad and alone in the company of her closest family. Dad looks up every so often to announce some obscure piece of info he found online. Twice he goes on about a large fish that was caught. No one replies. I am saddened by the use of technology for interaction in exchange for not interacting. This has never happened before and I doubt we have scratched the surface of the social impact of this new experience. Mom has her phone out now.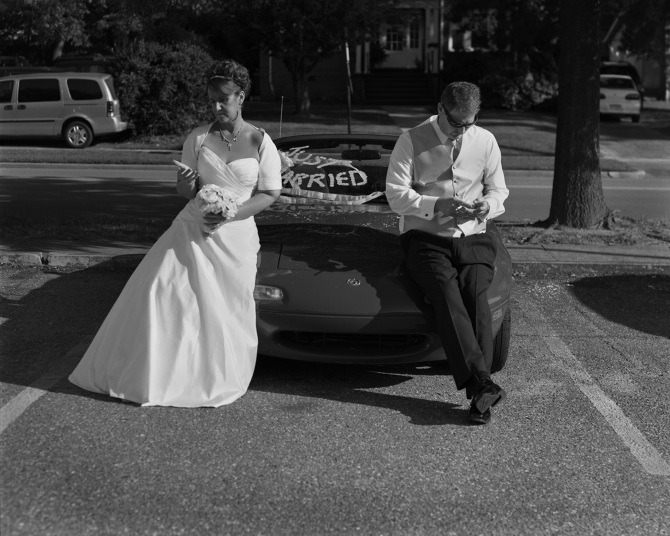 August 16, 2016 | No Comments » | Topics: Culture |
My tiny ass apartment
I start the day waking up in my tiny ass apartment. It's paid for by the school and is about the size of three average Americans. It's about 70% trash right now since I haven't cleaned it since the goddamn Stone Age.
August 2, 2016 | 3 Comments » | Topics: Culture |
What does the ideal male body look like across the world? 
UK-based Internet medical service Superdrug Online Doctor commissioned graphic designers from 19 countries around the world to Photoshop a man to "make him more attractive" to people in their country. The project was inspired by Esther Honig's 2014 Photoshop series, in which graphic designers retouched a woman's body based on their country's beauty standards.
July 25, 2016 | No Comments » | Topics: Culture |
Bride In Gora Region Between Kosovo And Macedonia
The Gorani people are Muslims by faith, but their traditions and customs contain various pagan elements. The bride is carried on a white horse covered with a scarf and a specially decorated umbrella during wedding festivities, and she accompanies her family to the neighbour's house of her husband-to-be.
June 28, 2016 | 2 Comments » | Topics: Culture |
1. Mainland China: Do not buy traditional Chinese silk clothes and from a shop also sells wreath. (no matter how beautiful they are) Those clothes are for dead people, and that shop is a shroud shop. You have no idea how horrifying to see a foreigner wearing them and walking down the street.
2. Vietnam – commit to crossing the road. I know it looks scary due to the endless scooter stampede but if you just cross at a steady pace, they'll avoid you. Do not try to dodge or make sudden movements, you will get your ass hit and there will be no sympathy.
3. In Malaysia, it is absolutely normal for someone to ask you what race you are. It's not meant to be offensive, just general curiousity.
4. Finland: Do not go too near anyone. Our personal space is huge.
5. When going to a friend's house and the family offers you have dinner with them, it is impolite to say no. Also, they would insist that you stay over in case you've had too much a lambanog and will give you the next best mattress they have. Before you leave, accept the leftover they give should you be hungry on your way back home.
Filipino hospitality at its essence.
6. In America, if you rent a bike, you should be aware that even if the bike lane is painted onto the street in a rainbow pattern with flashing neon lights, nobody gives a shit. You are not safe in the bike lane.
June 20, 2016 | No Comments » | Topics: Animals, Culture |
May 23, 2016 | 1 Comment » | Topics: Culture |
Mihaela Noroc of Romania decided to travel the world (on the cheap) and create an Atlas of Beauty to see how beauty looks around the world. Her photo series shows a wide variety of beautiful women in their environment and clothing of choice. The result is more impressive and beautiful than any Miss Universe pageant.
"Global trends make us look and behave the same, but we are all beautiful because we are different." she writes on Bored Panda. "In the end, beauty is in the eye of the beholder, and the beholder is always somebody else. My goal is to continue and take photos of women from each country of the globe, making 'The Atlas Of Beauty' a mirror of our diverse societies and an inspiration for people that try to remain authentic."
And there's the point: following fashion trends isn't a must for beauty and dressing to reflect your culture isn't a sin. In a sense, it's about remaining true to your cultural roots and not sacrificing everything to the cold and uncaring fashion gods of Paris or New York.
Maramures, Romania
April 19, 2016 | No Comments » | Topics: Culture, Food |
ENGLAND: The typical breakfast includes eggs, sausage, bacon, beans, and mushrooms.
CHINA: Traditional breakfasts vary based on the region, but dim sum, small plates of food prepared in a variety of ways, is popular.
January 18, 2016 | No Comments » | Topics: Culture, Food |
Kimchi – Sweet Toast – Choco Cup – Soy Sauce Type Dressing (to mix in with the rice) – 팽이버섯실파 국 Mushroom, Onion, and Egg Soup with Udon Noodles – 참치마요덮밥 Tuna Mayo Top Rice (like the tuna mayo sits ontop of the rice ^o^)
Kimchi – Meatballs – 마늘쭝어목볶음 Fish Cake Slices, Seasoned and Fried with Garlic – 콩나물무채국 Beansprout and Radish Soup – Corndog – Rice