May 5, 2016 | No Comments » | Topics: Cute |
Rafael Mantesso's wife left him and took EVERYTHING on his 30th birthday…except this dog – A bull terrier named Jimmy Choo.
'With only Jimmy for company, I found inspiration in my blank walls and my best friend and started snapping photos of Jimmy Choo as he trotted and cavorted around the house in glee. When Jimmy collapsed in happy exhaustion next to the white wall, I grabbed a marker and drew a new world around my ginger-eared pup. Suddenly, I felt this long-dormant inspiration for drawing — for art, for life — returning,' recounts Rafael.
The photos have now gone VIRAL: Rafael and Jimmy Choo have over 200,000 followers on Instagram!
May 4, 2016 | No Comments » | Topics: Dogs |
Sometimes a glimmer of hope can weigh heavily on the soul. That's what happened to a homeless dog who wouldn't stop crying after he was adopted but returned to the shelter a few days later.
Juice is a Bullmastiff mix and a longtime resident at Montgomery County Animal Services & Adoption Center, having spent 10 months at the facility. The shelter recently a heartbreaking video of Juice and a plea to help find him a home.
"This is a really hard post for us, because it's about a great dog who isn't doing so well. This is a story about Juice: a cuddly, loving, giant-headed goofball who has been at the shelter for almost 10 months. And Juice really, really needs your help. Really.
"For a long time, Juice was the example we used as a dog who could manage the stress of shelter life without getting depressed. But in the past month that changed- he started to lose his confidence. Then he was adopted and we jumped for joy! But it wasn't the right match, and after a couple of days he was back in his kennel, more stressed than ever. Staff started to notice him crying, panting, and pacing more often.
"One of our staff took him home for a "sleepover" this week to give him a break from the shelter and try to help him relax. But when she brought him back in the morning and put him back in the kennel, he started crying. And didn't stop. All day.
"Living in a shelter is not a life, and we're afraid that Juice is beginning to lose himself. He needs a home, where he can be himself and regain the confidence and trust that he has lost. He needs a family who will give him time and patience- we know that he'll repay that kindness with incredible loyalty and endless snuggles."
April 28, 2016 | No Comments » | Topics: Heartwarming |
A 17-year-old, grizzled stray, named Rocky, who has been in and out of a shelter since 2012 and a young woman, named Beth, had no idea where fate was leading them the day Beth strolled into the shelter loaded down with all kinds stuff of she had collected from her military community to donate to the shelter.
It was love at first sight and the next thing Beth knows is that she is walking out with Rocky. And while his age may show a bit physically, his spirit soars.
April 20, 2016 | No Comments » | Topics: Cute, Dogs |
Going to a dentist is something that definitely no one looks forward to, except maybe the ones that love the pain… But the majority of the people tries to delay those visits as long as they can. But, if your dentist works in the Pediatric Dentistry of Northbrook, Illinois, the teeth check up and any eventual procedure is actually a pleasant one. You are probably thinking "That is impossible!" The trick is that this dentist office has hired a very unusual assistant. No, it is not a super hot nurse in a mini skirt and a cleavage down to her belly button, but a 6-year-old Golden Retriever named Jojo.  This kind and gentle Retriever is actually a trained comfort dog, and she is the best when it comes to reducing the stress during the appointments.
March 30, 2016 | No Comments » | Topics: Dogs, Heartwarming, Humanity |
It was just another day on the bike for Brandon Turnbow when he saw something he couldn't believe: a man beating a little white dog on the side of the road.
The man threw the dog down and took off. That's when Brandon pulled over to check on the dog.
March 24, 2016 | No Comments » | Topics: Cute, Heartwarming |
When you need a helping hand sometimes it comes from the most unlikely of places. When 2 blind kittens, Bruce and Willis, and an older blind cat, Helen, were all brought to the Faithful Friends shelter no one expected that they would have seeing eye dogs. 
March 23, 2016 | No Comments » | Topics: Dogs, Heartwarming |
After returning home, a soldier reunited with her senior dog. The touching moment was captured on a video watched by millions of people.
Private Hannah Foraker left her home in Cleveland, Ohio in September to join the Army and begin basic training at Fort Sill in Oklahoma. She had never been away from her home for an extended time, or her beloved dog, Buddy.
So, when Foraker returned three months later after completing the training, she could hardly contain her excitement when she saw her 13-year-old golden retriever. And Buddy felt the same way. Despite suffering from arthritis and nearly deaf, the dog was still very over the moon.
"Buddy came running, as best as she could, out of the house, and said hello to everyone," Foraker told KTLA. "At first she didn't even realize I was there, but she did a double take and came bounding over to me whining nonstop in pure glee."
The touching moment, which occurred last Christmas, was captured on tape and was recently uploaded to the web. To date, it has already been viewed more than 2 million times.
While the reunion was touching, it was also short. Foraker isn't expected to return back to her home until next Christmas. She calls her elder dog a "fighter" and hopes she will be around when she returns home. In the meantime, Foraker interacts with her pup through Skype, telling the outlet:
"She doesn't understand that her mommy is on the other side of the screen, but she can hear me (with the volume all the way up) and always perks her ears and starts wagging her tail."
March 23, 2016 | No Comments » | Topics: Dogs |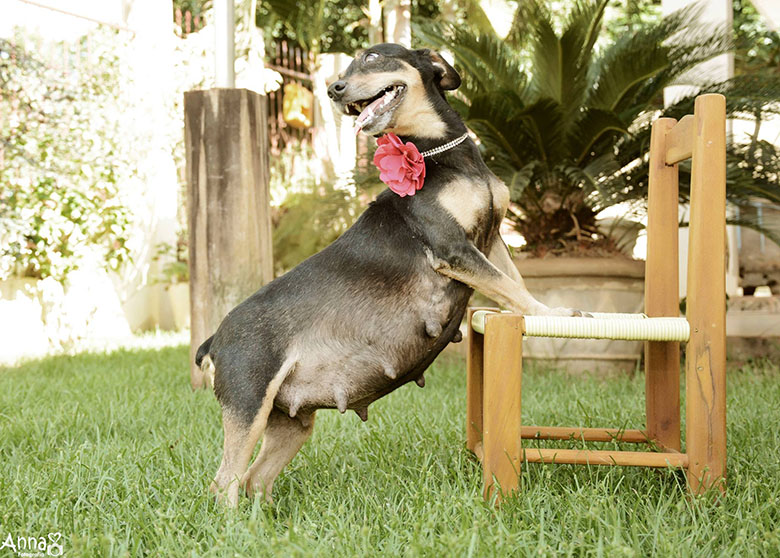 It seems like maternity photos are growing more popular by the year. Soon-to-be-moms proudly showing off their cute bellies in images they will have cherish for a lifetime.
Well, this trend has trickled into the dog world. Yes, an expected four-legged pup has posed in a series of pictures showing off her baby bump. Named Lilica, the dog was photographed by Brazilian photographer Ana Paula Grillo.
"It was amazing, I felt like I understood her completely," Grillo told Bored Panda. "She made sensational poses!"
The next day Lilica gave birth to five healthy puppies and all found homes.
While this is super cute, keep in mind, it is important to remember there are a lot of homeless dogs, we very much fall in line with Bob Barker's motto to "have your pets spayed or neutered."
Here is Lilica in all her glory.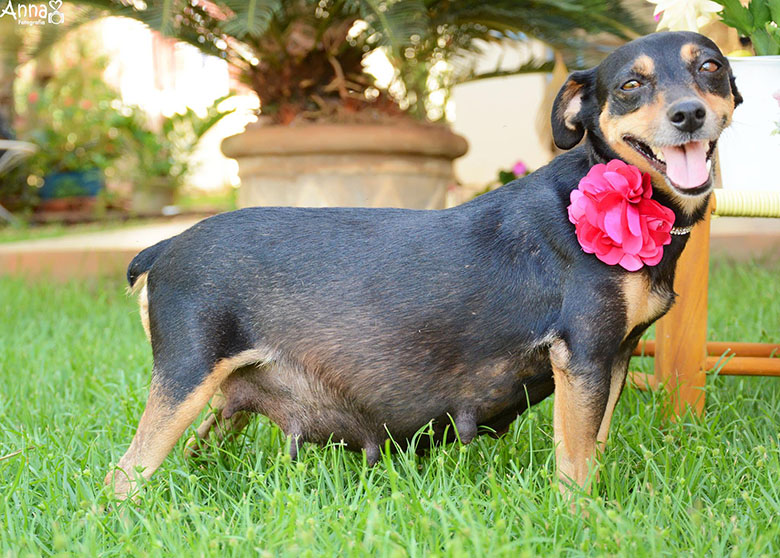 March 10, 2016 | No Comments » | Topics: Story |
Every now and then a dog story like this makes its way around the Internet to put a smile on everyone's face.
"An older, tired-looking dog wandered into my yard; I could tell from his collar and well-fed belly that he had a home and was well taken care of. He calmly came over to me, I gave him a few pats on his head; he then followed me into my house, slowly walked down the hall, curled up in the corner and fell asleep. An hour later, he went to the door, and I let him out.
"The next day he was back, greeted me in my yard, walked inside and resumed his spot in the hall and again slept for about an hour. This continued off and on for several weeks.
"Curious I pinned a note to his collar, 'I would like to find out who the owner of this wonderful sweet dog is and ask if you are aware that almost every afternoon your dog comes to my house for a nap.'
"The next day he arrived for his nap, with a different note pinned to his collar, 'He lives in a home with 6 children, 2 under the age of 3 and he's trying to catch up on his sleep. Can I come with him tomorrow?'"
Share this tired dog's story with your family and friends!
February 23, 2016 | No Comments » | Topics: Uncategorized |
Meet, Aspen, a 4-year-old Golden Retriever with a knack for adventure.