November 4, 2016 | No Comments » | Topics: Photography |
An unexpected compliment can make someone's day, so it's a wonder why we don't give them more often. Photographer Rotasız Seyyah, however, is changing this one person at a time. He's in the midst of a 1,001-day journey across the globe, working on a simple-yet-endearing project along the way. Called You Are So Beautiful, the series documents the moment Seyyah meets a stranger and tells them they are "very beautiful." Every individual has two photos snapped of them—one before they receive the kind remark and another after hearing it.
The difference between the photographs is like night and day. Before, the selected women look at the camera with unassuming expressions. But once Seyyah gives the compliment, their faces change—they light up with the sweetest reactions. Some are beaming while others are endearingly embarrassed by the sentiment and cover their face with their hands. No matter how old or where they live—many of these women reside in Central and South America—being told they're beautiful will shift the way you see yourself.
Despite the time now devoted to this passion project, Seyyah's travel photography is his second career. He spent six years working in IT in Istanbul before following his passions for travel and picture-taking. He plans to be on the road until September 11, 2017, and in the meantime you can follow along with his adventures on Instagram.
October 7, 2016 | No Comments » | Topics: Photography |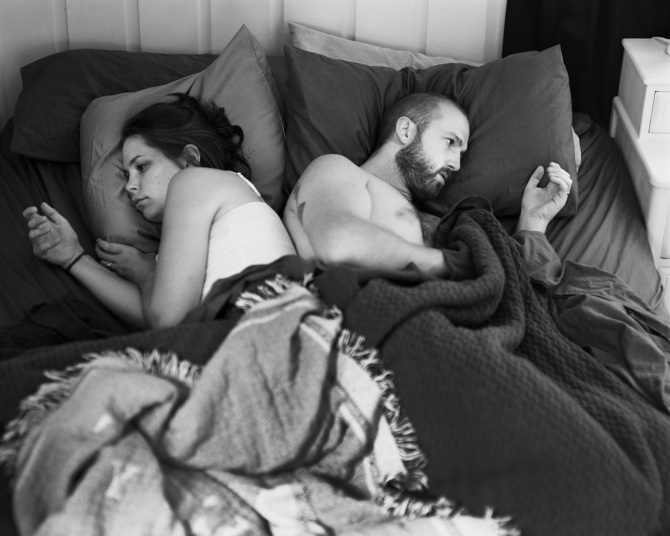 To show how physically disconnected people have become, photographer Eric Pickersgill has released a series of photos from everyday life with one minor adjustment: all electronic devices have been removed.
Pickersgill started the project after making a few observations about a family sitting next to him in a café.
"Family sitting next to me at Illium café in Troy, NY is so disconnected from one another. Not much talking. Father and two daughters have their own phones out. Mom doesn't have one or chooses to leave it put away. She stares out the window, sad and alone in the company of her closest family. Dad looks up every so often to announce some obscure piece of info he found online. Twice he goes on about a large fish that was caught. No one replies. I am saddened by the use of technology for interaction in exchange for not interacting. This has never happened before and I doubt we have scratched the surface of the social impact of this new experience. Mom has her phone out now.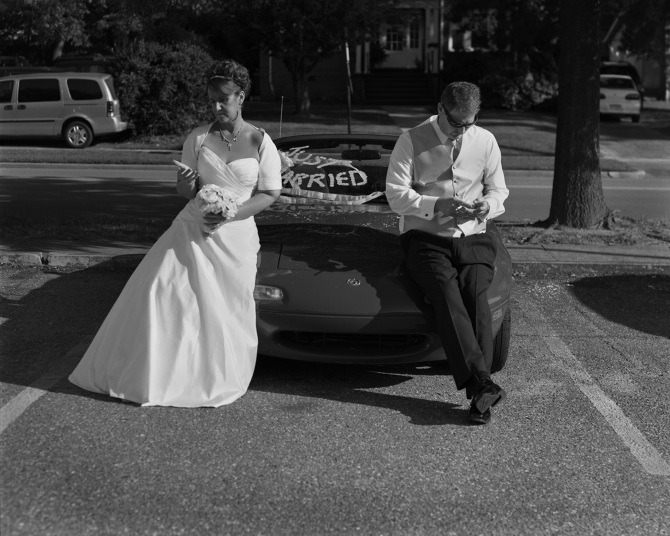 September 7, 2016 | No Comments » | Topics: Photography |
#1 Splitting The Catch By Audun Rikardsen, Norway
A large male killer whale feeds on herring that have been squeezed out of the boat's closing fishing net. He has learnt the sound that this type of boat makes when it retrieves its gear and homed in on it. Usually, it's the fishing boats that look for the killer whales and humpbacks, which help to locate the shoals of herring that migrate to these Arctic Norwegian waters. But in recent winters, the whales have also started to follow the boats.
#2 Swarming Under The Stars By Imre Potyó, Hungary
Imre was captivated by the chaotic swarming of mayflies on Hungary's River Rába and dreamt of photographing the spectacle beneath a starlit sky. For a few days each year (at the end of July or beginning of August), vast numbers of the adult insects emerge from the Danube tributary, where they developed as larvae. On this occasion, the insects emerged just after sunset. At first, they stayed close to the water, but once they had mated, the females gained altitude. Winners will be announced on 18 October.
August 10, 2016 | No Comments » | Topics: Photography |
July 12, 2016 | No Comments » | Topics: Photography |
Grand Prize Winner: Winter Horseman, Inner Mongolia
First Place Winner, Cities: Ben Youssef, Marrakesh, Morocco
May 31, 2016 | No Comments » | Topics: Photography |
This playful collection of photographs features one man's view from the inside of a tent. Simply called Morning Views From the Tent, the inspirational travel series was created by photographer Oleg Grigoryev. Each image offers a unique glimpse of the Tajikistan landscape from the eyes of an adventurer traveling through the Fann Mountains.
In the compositions, the photographer's legs lead us forward, through the rounded entryway of each tent, and outward towards the stunning scenery. Other tents, supplies, backpacks, and shoes are scattered throughout the foreground which creates a sense of human presence among the breathtaking views. The bright and colorful tents uniquely frame the scenes and invite viewers to be swept away by the photographs as if we, too, are witnessing the dazzling natural beauty in person.
April 11, 2016 | No Comments » | Topics: Photography |
For his latest project Brazilian photographer Marcos Alberti has combined three of his passions: friends, photography and wine.
As he says himself: "The first glass of wine is all about the food, the second glass is about love, and the third glass is about mayhem". So his idea was to go and look for that mayhem.
"The first picture was taken right away when our guests have just arrived at the studio," explains Alberti, "in order to capture the stress and the fatigue after…working all day".
By the third glass of wine Alberti's friends got more and more into his project, revealing more open versions of themselves. We can only begin to imagine what photos 4, 5 and 6 might look like!
January 29, 2016 | No Comments » | Topics: Animals, Photography |
January 5, 2016 | No Comments » | Topics: Photography |
.
December 28, 2015 | No Comments » | Topics: Photography |
When Penguins Attack | Casey Station, Antarctica
Image source: Clinton Berry
Winter White | Gran Paradiso National Park, Italy
Image credits: Stephano Unterthiner