(Photo: Turnspit Dog)
There are plenty of conservation efforts across the globe that focus on maintaining endangered species' populations. Who'd every think that dogs could be a part of this? While the species of Canis familiaris as we know it is hardly under threat, there are some breeds who could face total elimination. In fact, there are some that have already ceased to exist.
Years ago, dogs were bred for a working purpose.
For example, the turnspit was a dog first employed in the 16th century who was bred to work in grand old kitchens, literally running on a wheel like a hamster to turn the spit the meat was roasted on.
They were bred and trained for this job because the young boys who'd be doing it before were suffering bad blisters on their hands.
We're unsure how the turnspit felt about its task, but it did have a day off: Sunday, when it would accompany the family to church. Not because it was a Protestant, but for its second job: as cozy footwarmers! (To lighten the dog's sad story, a happy fact is that the SPCA was first founded in America for the turnspit's sake!)
By the time the 19th century turned over, turnspits were few and far between if not completely extinct. The progression of domestic machinery made them no longer necessary for household chores.
Owning a turnspit became synonymous with poverty, as it hinted at someone who couldn't afford the fancy new technology to help in the kitchen.
In another example, mankind may be directly to blame although their impact on the dog wasn't intentional. The Kurī was a Polynesian dog introduced to New Zealand where the Māori treated it both as a wild dog and a domestic one.
Some hunted the dog for its meat and fur, some trained it to help hunt. Either way, it thrived in New Zealand for hundreds of years until the 19th century when it officially became extinct.
The reason for this is because when European settlers came over, they brought their own dogs. The Kurī, unfortunately, did not survive interbreeding with the European dogs and hasn't been seen since.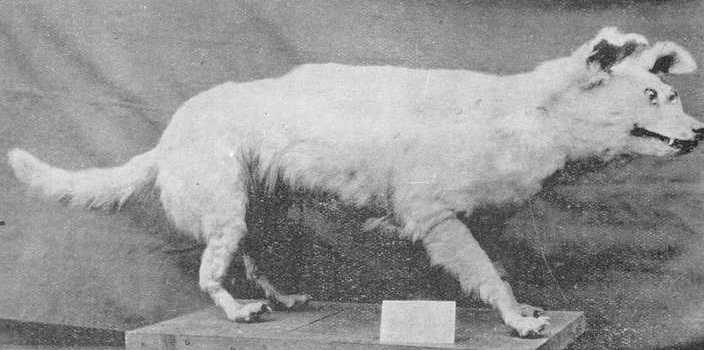 ( Kurī)
Happily, some breeds managed to evolve over time to maintain their existence. Originally, the bulldog was bred to bate bulls. An obscene and violent "sport," it was happily outlawed in the U.K. in 1835.
Contrary to what was expected, the bulldog didn't die out with disuse.
For whatever reason, people still breed them and enjoy the way they look up to today. If only the turnspit was so lucky.
Some attribute the popularization of dogs as leisurely and aesthetic pets to Queen Victoria who was known to dote on a menagerie of dogs, horses, and birds.
Owning dogs for the simple pleasure of having a companion comes with its own existential risk.
Fads of popular breeds can greatly effect the population of some, less popular breeds potentially facing extinction. This is a concern for the present day.
If no one wants to adopt a Harrier, breeders will have no market and will stop mating theirs. Populations will dwindle and risk extinction. It was a good thing when pop culture fazed out 80s big hair. Just don't let it take away our pooches!
Which dog breeds are extinct?
Happily, the list of extinct dogs is exhaustive, meaning that there is a distinct number and it's not terribly high. According to Wikipedia, the list contains 55 breeds. The turnspit and Kurī are on it.
So are many whose names sound familiar and make you think "surely that's not true;" however, in many cases, the extinct breed is in some way related to ones that still exist today.
For example, the English Water Spaniel no longer exists, but has relatives in the Irish Water Spaniel, American Water Spaniel, even some Flat Coated Retrievers. The Alpine Mastiff looks like a St. Bernard because it was probably its direct ancestor.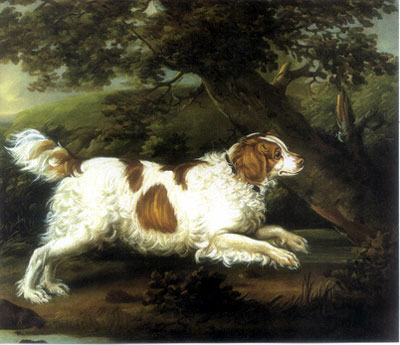 (English Water Spaniel)
One of the hardest parts about determining extinct dog breeds is the fact that, centuries ago, people didn't always distinguish breeds. Because dogs were defined by the jobs they did, people back in the day had a looser definition of what certain ones looked like.
That's why there are so many variations of the retriever – its name was its job (to retrieve prey shot down by its owner), not its physical appearance.
Which dog breeds are becoming extinct?
Today, in a consumerist world, one of the main reasons man's best friend risks extinction is simply because it isn't selling.
A lack of popularity for a breed can spell eventual doom for its existence.
One example is the Sloughi who ranks last in the most popular dogs according to the AKC. Just think, that's only based on a list of breeds recognized by the AKC!
(Sloughi, photo: Sabine.schlenkrich)
There are loads more pups in the words that aren't recognized who could face the same unfortunate dead end and don't even have an established kennel club to support them.
What is the rarest type of dog?
There is no singular rarest dog. A simple Google search will give you anywhere from 5 to 20 of "the world's rarest breeds." The superlative depends on where in the world you're looking, though.
There are some dogs that have only ever existed in one corner of the world, which obviously limits its population. In the U.S., some rare breeds include the Otterhound, the American Foxhound, and the Chinook.
In Italy, the Lagotto Romagnolo. In Eastern Europe, the Mudi. In Asia, the Sarail Hound, Sinhala Hound, and Telomian are all informally listed as endangered breeds on the brink of extinction.
All these breeds are rare, though the definition of "rare" varies.
Can a dog breed be brought back from extinction?
There are some breeders who are avid enthusiasts of lost breeds who attempt to bring back past pooches. In several cases, the level of their success is conjecture.
There are some dogs who went extinct well before photography and for whom no one ever even made a sketch.
One such dog is the Molossus. Hailing from ancient Greece, this canine was often written about by some of the most famous poets and philosophers of antiquity. Aristotle himself wrote of it in his History of Animals. While he mentioned the tasks the Molossus was regularly put to, such as hunting and herding, he didn't actually describe what it looked like!
Today, there are a few breeders in the U.S. who claim to have resurrected this extinct breed and sell American Molossus puppies at exorbitant prices, claiming they're selling history. Unfortunately, though, there's no way to tell if it's true – we just don't know exactly what the Molossus looked like!
A well-known dog that you may not have known was actually a real, extinct species is the dire wolf. Popularized through the fantasy series Game of Thrones, these wolf-like dogs actually existed on planet Earth. Not in any of our lifetimes, though, as they were estimated to have died out about 11,000 to 12,000 years ago.
One group is trying to change that, however. Well before the pop culture high of the Game of Thrones series, the Dire Wolf Project (DWP) began in 1988 and claims to breed real life dire wolves – a breed they've officially named the American Alsatian.
They achieved the modern dire wolf by mating an Alaskan Malamute with a German Shepherd, then introducing an English Mastiff into the mix.
(Alsatian Shepalute, photo: lupin.the.direwolf)
In the early 2000s the DWP achieved what they named the Alsatian Shepalute, settling on "American Alsatian" in 2010, whence the dire wolf was officially deemed back from extinction.
Essentially, in these two examples (as well as several other recovery attempts being made for different breeds) there's a decent amount of guesswork gone in to the genetic mixing of the breeds we have today in order to recreate the breeds of the past.
It took the DWP about 30 years of breeding dogs to achieve the American Alsatian a.k.a. dire wolf. There wasn't success with every litter, let alone with every pup. At least scientists can study remains of the dire wolf.
For the Molossus, there's even more guesswork as there's no fossilized evidence of the breed, no full descriptions of its physical characteristics, nor standard image in ancient art. How a breeder resurrects an extinct breed of dog depends on historic facts, the breeds that exist today, and the role of the die when it comes to genetics.
Dogs are a impressive since all different breeds – no matter their size, shape, or color – are all the same species. While the species as a whole is going strong, the world's unfortunately lost some breeds along the way. Sometimes through human intervention, sometimes through ecological fate. We're sure that existing or long gone, they were all very good boys.