Firefighter Carries Unconscious Husky Down 15 Floors And Saves His Life
The Virginia Beach Fire Department said that the fire took place at an apartment building on 34th Street and Pacific. The fire was up on the 15th floor.
The dog was unconscious when a firefighter found him, but they immediately got him oxygen after carrying him down 15 floors to the street.
The dog quickly became alert and responsive.
The husky, named Igor, was taken to Bay Beach Vet Hospital for further treatment and his owners were notified.
He is expected to make a full recovery.
95-Year-Old Message In A Bottle Returned To Sender's Daughter
Jennifer Dowker was scuba diving in the Cheboygan River in Michigan on Friday when she found a message in a bottle written in 1926. What's even more remarkable is that the person who found the bottle was able to get news of the message's existence to the sender's daughter. (read the full story)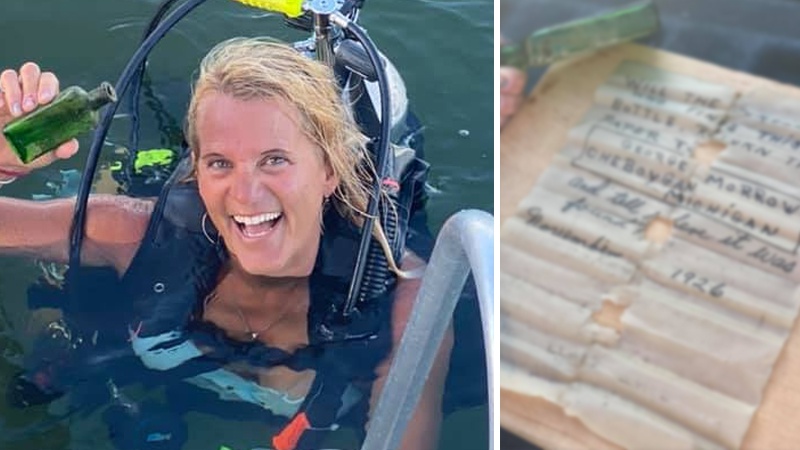 These guys helped a giant sea turtle return to the sea after being stuck in a swamp for 2 days
The world's most premature baby has celebrated his first birthday after beating 0% odds of surviving
A baby born weighing less than a pound has beaten the odds and celebrated his first birthday, becoming the most premature baby to survive, according to Guinness World Records. (read the full story)
97-year-old Utah woman's headstone includes her favorite fudge recipe
Logan Cemetery in Utah is home to one of the most creative and practical headstones to ever mark a final resting place. The headstone for husband and wife, Wade and Kathryn Andrews, features the dates they lived, some images that represent Wade's life, and Kathryn's fudge recipe.
Wade first passed away in 2000 and Kathryn helped select the images that went on his side of the headstone. When her children asked what she'd like to have to have on hers, she said she'd like her fudge recipe.
"She really loved people," Janice Johnson, Kathryn's daughter, said according to Lexington 18. "She would write poetry, and she would take fudge whenever people got together."
Two 12-year-old girls qualified to compete in the first-ever Olympic skateboarding event
Kokona Hiraki and Sky Brown aren't you're typical skateboarders, nor are they your typical preteens. You don't get to the Olympics at 12 by being ordinary. Both girls have qualified to compete in the first-ever Olympic skateboarding event, with Hiraki skating for Japan and Brown representing Great Britain. Both girls compete in the park skateboarding event, which involves doing tricks on skate park-style ramps and bowls. (read the full story)
Strangers cheer on this sweet boy who's afraid to jump in
Swedish Wildlife Photographer Captures Intimate Images of Curious Red Squirrels
Swedish photographer Johnny Kääpä has earned the trust of his local squirrels, who now curiously approach his camera and pose for snapshots.
Kääpä has spent years befriending red squirrels in order to capture their most candid moments. Kääpä's photos reveal the intimate lives of squirrels all-year-round. From foraging nuts to climbing trees
A kind heart is a kind heart no matter the age
MacKenzie Scott donates $2.7 billion to 286 groups: They can 'spend it however they choose'
MacKenzie Scott, the billionaire philanthropist known for her impromptu multibillion dollar donations to charities and racial equity causes, announced Tuesday that she has given $2.7 billion to 286 organizations. It is the third round of no-strings-attached, major philanthropic gifts Scott has made, which together rival the charitable contributions made by the largest foundations. (read the full story)