Uncategorized
April 7, 2016 | 1 Comment » | Topics: Uncategorized |
1. The company pays a living wage. Costco's CEO and president, Craig Jelinek, has publicly endorsed raising the federal minimum wage to $10.10 an hour, and he takes that to heart. The company's starting pay is $11.50 per hour, and the average employee wage is $21 per hour, not including overtime. Most other big box retailers start their employees at minimum wage.
2. Workers get benefits. About 88 percent of Costco employees have company-sponsored health insurance, according to David Sherwood, Costco's Director of Financial Planning and Investor Relations. "I just think people need to make a living wage with health benefits," Jelinek told Bloomberg. "It also puts more money back into the economy and creates a healthier country. It's really that simple."
3. The CEO makes a reasonable salary. Costco's CEO makes far less than most executives, with a total compensation package of about $4.83 million in 2012. In contrast, Walmart CEO Mike Duke made roughly $19.3 million during the same year. Walmart's CEO earns as much as 796 average employees, according to CNN Money, compared to Costco's CEO making 48 times more than the company's median wage.
4. Costco helped its employees weather the recession. When the economic crisis hit and other retailers laid off workers, Costco's CEO approved a $1.50-an-hour wage increase for many hourly employees, spread out over three years.
5. Costco doesn't kill Thanksgiving. While many of its competitors are forcing employees to work on Thanksgiving Day, Costco will buck the trend and stay closed.
6. It also doesn't waste money on expensive advertising. The company doesn't advertise nor does it hire a public relations staff. Meanwhile, Walmart dropped $1.89 billion on ads in 2011.
7. Its prices aren't horrendously high. Costco never marks up products by more than 15 percent, while most retailers commonly mark products up by more than 25 percent.
8. It embraces equality. Costco scored extremely well (90/100) on the Human Rights Campaign's Corporate Equality Index, an assessment of LGBT policies in the workplace.
9. It hires from the inside. More than 70 percent of its warehouse managers began their careers working the register or the floor.
10. Costco's employees are loyal. For employees that have worked at the company for more than one year, the annual turnover rate is below six percent, according to Sherwood. For executives, the turnover rate is less than one percent.
April 6, 2016 | No Comments » | Topics: Humanity, Uncategorized |
If you wander the streets of Kochi, India, and visit a restaurant called Pappadavada, you will see something that is both unique and beautiful outside of the dining establishment.
The owner of the restaurant, Minu Pauline, has placed a refrigerator in front of her restaurant, and she fills it every single day with food for the homeless.
Pauline realized she didn't want to throw away unused food, so she came up with a unique and thoughtful approach to disposing of her restaurants extra food.
She leaves the refrigerator out on the curb so that no one in her community goes hungry.
The refrigerator is known as the "Tree of Goodness," and since debuting on March 23 it has fed hundreds of hungry locals.
March 30, 2016 | No Comments » | Topics: Uncategorized |
Salvador the cow was born on a dairy farm in Chile. While you would never be able to tell by the looks of him now, Salvador's start in life was incredibly tragic. As a male calf born into the dairy industry, he was deemed "useless" at birth and slotted to become a veal calf, the only way he could be profitable to the farmer.
Salvador was forced into a 2×2 wooden crate and deprived of his mothers' love and care, being fed only enough to keep him alive. This poor calf became extremely weak, listless and had all but given up on life when he was rescued by AnimalLibre. Now Salvador lives in the care of Santuario Igualdad Interespecie, a Chilean farm animal sanctuary.
March 28, 2016 | No Comments » | Topics: Uncategorized |
25 Facts That Sound Like Complete Bullshit – Leenks
These Photos Of A Roadtrip Through America Will Motivate You To Ditch Your Cubicle For An RV – Caveman Circus
Seeing This Car Get Crushed Was Terrifying. What They Found Inside Was Even More Shocking – Slip Talk
How a TV Sitcom Triggered the Downfall of Western Civilization – Linkiest
What anthropologists found out about a man's best friend will leave you speechless – Husky Lovers
Heartwarming Story Of How Wolf Therapy Can Help Veterans With PTSD – Rant Pets
Kylo the Famous Pit Bull Puppy Now Helps Other Dogs in Need – Dogster
10 Gifts That Men Actually Want – Mens Magazine
These 20 Celebrities Are Actually the Same Age – Pop Hitz
College Student Keeps Promise To Grandparents With Check To Pay Off Mortgage – Radass
Halle Berry on a Beach in Mexico – G-Celeb
Georgia Parents Want School to Ban Use of the Word 'Namaste' Because Witchcraft – The Blemish
38 Pie-Worthy Pics of Shannon Elizabeth – Regretful Morning
The Top 50 Women This Week – Suburban Men
WhatsApp Founder Got Rejected by Both Twitter and Facebook Before $19 Billion Buyout – The Hustle
March 28, 2016 | No Comments » | Topics: Uncategorized |
Cave of Crystals, Mexico
Massive beams of selenite dwarf explorers in the Cave of Crystals in Naica, Chihuahua, Mexico, March 18, 2008. Some single gypsum crystals in this cave are 36 feet long and weigh 121,200 pounds, some of the largest natural crystals ever found.
'Door to Hell,' Turkmenistan
The Door to Hell is a natural gas field in Derweze, Turkmenistan and is known for its natural gas fire which has been burning continuously since it was lit by Soviet petrochemical scientists in 1971.
March 28, 2016 | No Comments » | Topics: Uncategorized |
1. A little late but there is a girl at my college known for sleeping around a lot. There are a bunch of rumors surrounding her but I know for a fact that she has taken two random guys up to her room on the same night (I worked as a doorman at the time). She wasn't the best student by any means choosing to party over studying or anything like that. About a year ago, I was drunk at a bar and saw her there. She saw me and we talked for a bit and she asked to dance. I'm not the most attractive person by any means, so this had never happened to me. I took her offer, why not, could be fun. After about 4 songs worth of grinding or so, she turns around and gives me this wide eyed look. She quickly says "I have to go" and rushes out the door as quick as she could. I assumed she had a moment of clarity and left. I met back up with friends, told them what happened, and we all left a bit later. The next day there is a huge party and apparently she didn't go, people were saying she wanted to study instead. In fact, she didn't go to the bar or any party for the rest of the semester. She made dean's list that semester and is on track to make dean's list this semester too. When I talk about it to my friends, they say she probably hooked up with someone else that night or she went out a different night but I saw her look of shock. I saw her directly leave the bar. I know she didn't go to that party that she would normally go to the very next night. She hit rock bottom by simply dancing with me and it was enough to truly change her life.
March 25, 2016 | No Comments » | Topics: Uncategorized |
10 Clips Guaranteed To Make You Feel Better About Life – Caveman Circus
Things That Were Cool As a Kid But Are Stupid As An Adult – Linkiest
Animal Shelter Robbed Of Everything Gets Community Support Of A Lifetime – Rant Pets
15 incredible places worth visiting at least once in a lifetime – Leenks
Deaf Woman Hears For The First Time, Then Her Boyfriend Proposes – Quirly Cues
15 Hottest Non Famous Celebrity Girlfriends! – Buzzlie
I Think We Should Stop Breeding Purebred Dogs – Dogster
A Japanese couple captured their cats every time they were getting ready to eat – Husky Lovers
50 Terrible, Quick Jokes That'll Get You A Laugh On Demand – Thought Catalog
What Happened After This Lady Texted The Wrong Person Is Hilariously Epic. – Slip Talk
Alexandra Daddario Bent Over for Baywatch – G-Celeb
Lucky 19-Year-Old Survived the Boston, Paris, and Brussels Attacks – Radass
Summers Are Just Better at the Lake (23 Photos) – Suburban Men
John Travolta Forbids Women from Massaging Him, Only the Strong Hands of Men Will Do – The Blemish
Microsoft AI Assistant Turns into Hypersexual Racist Nazi in Minutes – Regretful Morning
These kids are definitely no walk in the park (35 Photos) – Bad Sentinel
March 25, 2016 | No Comments » | Topics: Uncategorized |
This is a really interesting article we found on Science and Dogs that needs more exposure. First off, there is nothing wrong with owning "purebreds" because all dogs need loving homes, but a dog should never be bred with intentional defects.
The dogs on the left are from the 1915 book, Breeds of All Nations by W.E. Mason. The examples on the right are modern examples from multiple sources. To be able to make an honest comparison, I've chosen pictures with similar poses and in a couple of cases flipped the picture to get them both aligned in the same direction.
Bull Terrier

It seems incredible that at one time the Bull Terrier was a handsome, athletic dog. Somewhere along its journey to a mutated skull and thick abdomen the bull terrier also picked up a number of other maladies like supernumerary teeth and compulsive tail-chasing.
Basset Hound

The Basset Hound has gotten lower, has suffered changes to its rear leg structure, has excessive skin, vertebra problems, droopy eyes prone to entropion and ectropion and excessively large ears.
March 24, 2016 | No Comments » | Topics: Uncategorized |
Iselin Rose Borch survived the 2011 massacre Anders Breivik caused at a youth camp in Utøya, Norway. 'I had a really hard time sleeping. I was afraid of the dark and suffered from dreadful nightmares. My mom and I decided that getting a dog might help me, so I got Athene. Now she sleeps on top of my stomach every night.'
Specially trained therapy dogs help little patients conquer their fears in one of the U.S. dental clinics.
March 17, 2016 | No Comments » | Topics: Uncategorized |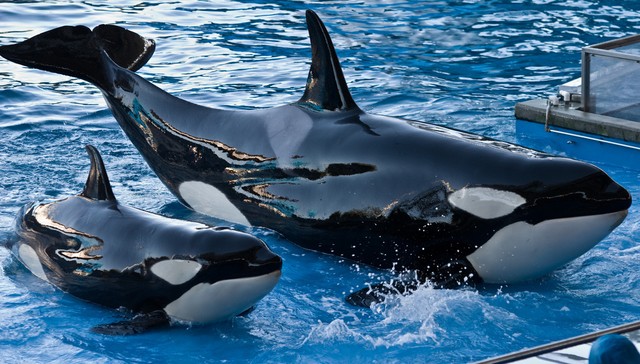 SeaWorld will never breed another orca again.
The company has announced it will end its orca breeding program and phase out theatrical shows featuring the highly intelligent animals.
"Today's announcement signals that the era of captive display of orcas will end," said Wayne Pacelle, president and CEO of the HSUS in a press release.
"As one of the largest rescue organizations in the world, we will increase our focus on rescue operations — so that the thousands of stranded marine mammals like dolphins and sea lions that cannot be released back to the wild will have a place to go," SeaWorld CEO Joel Manby said.
Ever since the release of "Blackfish" three years ago, SeaWorld has seen dwindling attendances and protests from animal rights activists calling for it to end public exhibitions of orcas.
"This is a first, massive step forward toward a more humane future for SeaWorld," Dr. Naomi Rose, marine mammal scientist at the Animal Welfare Institute, said in the press release. "I welcome these commitments from Joel Manby. He has given SeaWorld a new lease on life."